Motorola Endeavor HX1 Bluetooth headset attempts a Jawbone smackdown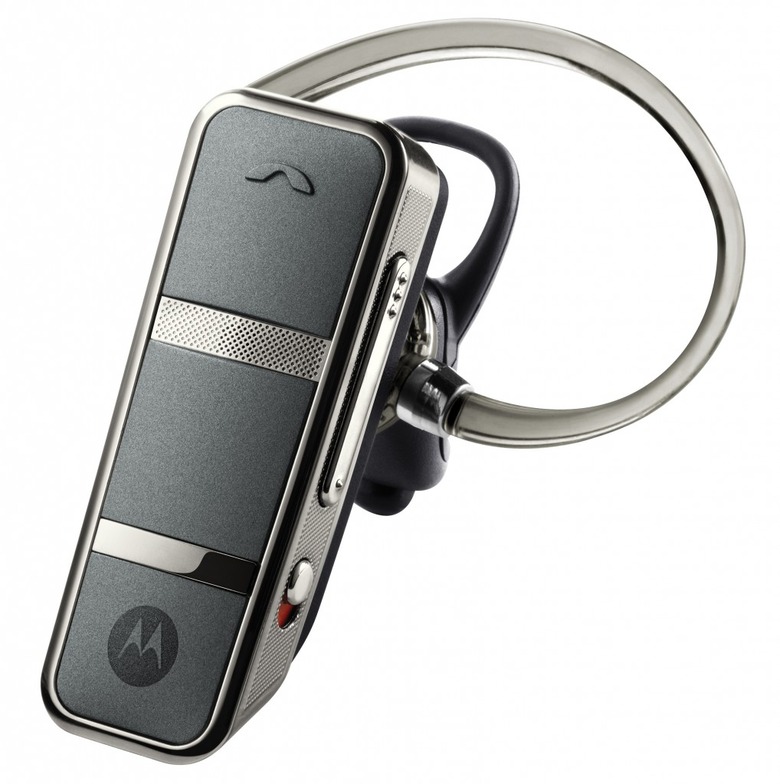 Motorola have unveiled a new Bluetooth headset, the Endeavor HX1, which the company claims to be the "only Bluetooth headset to use true bone conduction technology".  That's likely going to raise some eyebrows over at Aliph, whose Jawbone headset is known for using a vibration-sensing system; in the HX1's case, a new Stealth Mode shuts off the standard microphone and solely uses a bone conduction sensor in the earpiece.
That, Motorola say, is good enough to minimize the impact of even the most violent wind and ambient noise, and in fact can allow you to be heard even while standing in a concert.  If you're leaving the microphone switched on, then Motorola's CrystalTalk system is also onboard for some more traditional noise-reduction.
Battery life is apparently good for seven hours talktime, and the HX1 can connect to multiple devices simultaneously making it handy for both cellphone and VoIP use.  There are even voice-prompts, BlueAnt-style, to guide you in setting up Stealth Mode and pairing.  The Motorola Endeavor HX1 will land in Asia come July; no word on pricing, nor when it might arrive in the US or Europe.
Press Release:
Motorola Endeavor HX1 Takes Calls Where No Headset Has Gone Before Global

Headset Leader Introduces a Revolutionary Audio Experience with a Stealth Mode that Activates True Bone Conduction Technology

June 18, 2009

LIBERTYVILLE, Ill. – June 18, 2008 – Motorola, Inc. (NYSE: MOT), the world leader in Bluetooth headsets, today unveils Motorola Endeavor HX1, the first headset to combine Motorola's CrystalTalk™ noise cancellation technology with a stealth mode so you can hear and be heard in the fiercest environments. When the stealth mode is activated, true bone conduction technology relays only your voice while knocking out the most extreme noise and wind for a revolutionary premium headset experience. This experience makes Motorola Endeavor the only Bluetooth1 headset to use true bone conduction technology, all without compromising comfort.

"Motorola Endeavor HX1 adds a new level of audio superiority to our industry leading portfolio and is made for people who want the freedom to take hands-free calls despite extreme noise and wind environments," said Wayne White, corporate vice president, companion products, Motorola Mobile Devices. "Whether you are driving in a convertible, attending a concert or standing on a busy street, Motorola Endeavor allows you to hear and be heard."

The Truth about Bone Conduction Technology

Created with the same bone conduction technology that special military forces around the world use, Motorola Endeavor is not your average headset. Activated with a touch of a button, the stealth mode instantly triggers bone conduction technology. This technology uses an ear sensor to seal off outside noise, rather than relying on an exposed exterior microphone. As you speak, the sensor taps your vocal vibrations and seamlessly converts them to speech so the listener hears your voice and only your voice.

Every Word Will be Heard

Whether you find yourself battling everyday noise nuisances or extreme sound environments, Motorola Endeavor helps you fight back with the power and technology to make hands-free calls wherever you roam. Motorola's award-winning CrystalTalk™ noise cancellation technology is always-on to reduce everyday background noise, and the stealth mode is easily activated with the press of a button, so you can be confident that you are being heard when the noise around you becomes too disruptive.

Power Up

Motorola's Multipoint technology allows you to connect to more than one device, and you can talk more and charge less with up to seven hours of talk time. With voice prompts that instruct you on how to activate the stealth mode and how to pair with handsets, getting started has never been easier.

Availability

Motorola Endeavor HX1 will be available in multiple regions beginning with Asia in July 2009. For specific regional availability and pricing, contact your local Motorola representative. To experience Motorola Endeavor HX1, please visit www.motorola.com/endeavor-hx1.