Motorola ELECTRIFY Review [US Cellular]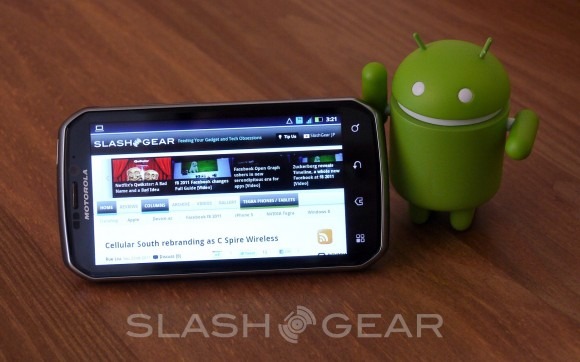 Do you want a top tier Android smartphone with a blazing fast dual-core processor and a kickstand running on US Cellular? If you answered yes then you'll want to stick around and see our review of the new Motorola ELECTRIFY for US Cellular that was just made available to the public today. We've given it a one-over and enjoyed it for the past few days and so far its been a great device. Read on below for the full review.
We'll start with my hands-on unboxing video so everyone can get a feel for the ELECTRIFY and what it's all about, then I'll get into the nitty gritty here shortly.
Motorola ELECTRIFY hands-on video
[vms 389a8a1a541a76be463b]
Hardware
Outlined nicely in the video above is just about all you need to know about this well rounded smartphone. If you remember the Motorola PHOTON 4G or saw our detailed review then you know everything about the ELECTRIFY already as they are identical twins. The ELECTRIFY is the US Cellular version of the PHOTON 4G — without the WiMAX.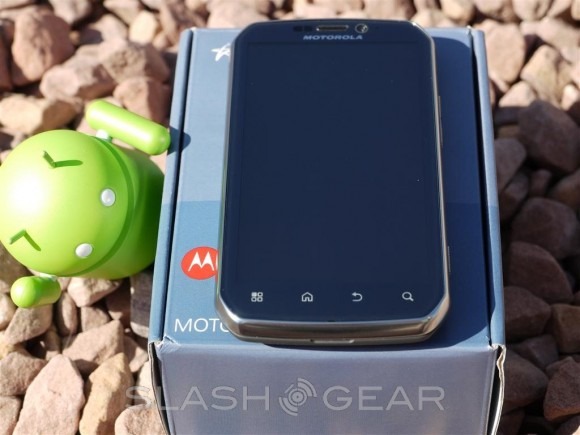 What we have is a powerhouse 4.3" qHD (Quarter High Defenition) display with a 960 x 540 resolution, Android 2.3.4 Gingerbread and the popular NVIDIA Tegra 2 dual-core 1.0 GHz processor under the hood. Topped off with 1GB of RAM, 16GB internal storage and additional micro-SD slot for extra storage, an 8MP camera on the rear with dual LED flash and VGA front for video conference. The camera is capable of full 720p video capture that can then be streamed via the micro-HDMI out on the side of the phone.
Oh and we can't forget the sweet sweet kickstand on this bad boy either. I wish all phones had such luxury but sadly they do not.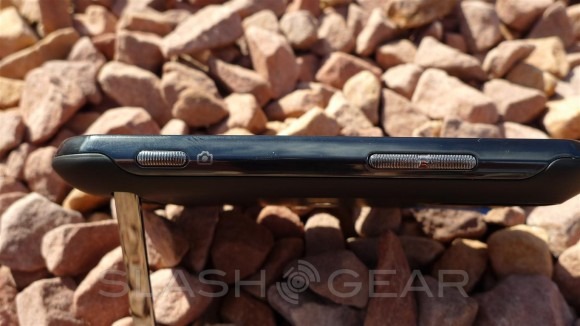 Now for a quick photo tour of the hardware I'll start with the left side. We have a nice aluminum bezel around the entire frame of the phone and on the left edge we have the micro-HDMI and micro-USB for charging and that is all. Ports are neatly labeled and they feel very sturdy.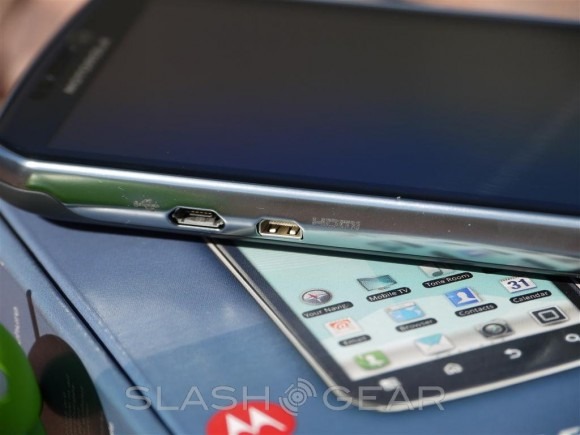 Following the aluminum bezel around to the top we have the power and wake button, then to the right we have the volume up/down rocker and a dedicated camera button. These have a unique and rigid texture to them almost like a file or something. I'm not sure if I like this but you wont have a hard time finding the volume rocker that is for sure. It's actually a nice touch just different than what we are familiar with.
Around back we have that all important kickstand and our 8 MP camera. The kickstand has the same rigid texture as the other buttons only its not on the part that swings out, just seems backwards to me but this isn't a con or anything. Just would make more sense because the end that flips out you'd touch, thus needing the texture like the other hardware buttons. Nicely branded with Motorola and US Cellular and covered with a soft coated matte backing that is simple to hold and extremely scratch resistant.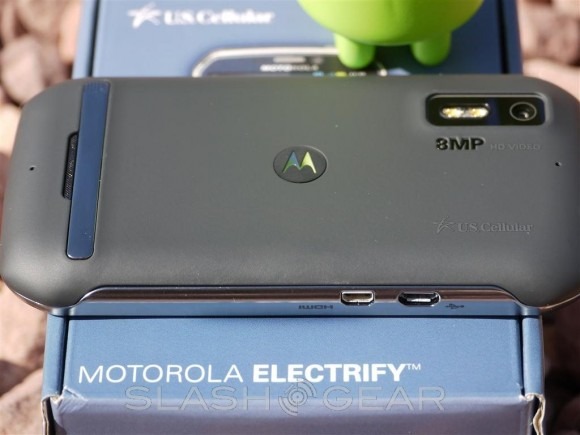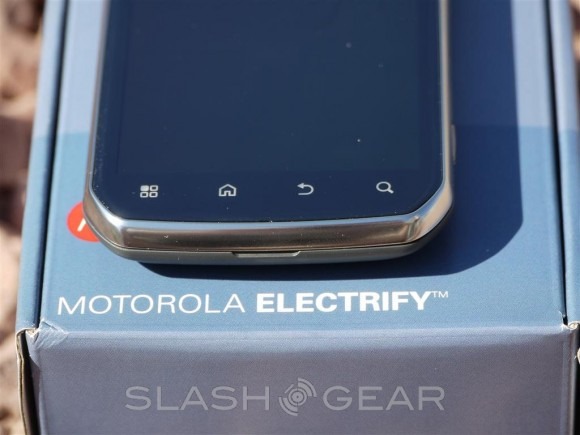 Software
Along with stellar hardware we have Android 2.3.4 Gingerbread and one of the latest builds of Motorola's Blur UI. Motorola has made a few small changes visually to Gingerbread but nothing too drastic. We have custom icons and widgets, the menu's look different but everything is basically just themed. Nothing crazy like HTC does and I really like the simple design Motorola's been using as of late. The software runs quick, fluid and stable thanks to the dual-core processor and while we do have some bloatware most are applications users would install on their own.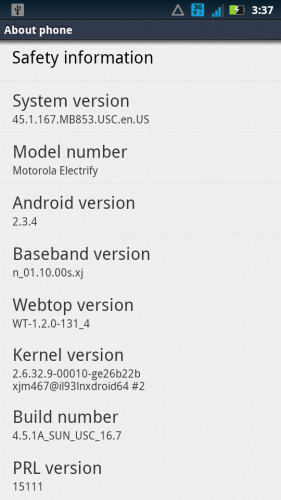 Most of the bundled applications can be seen above. We have Amazon App store, Amazon MP3, Asphalt 5 racing, Daily Perks (deals app), quick office and that is about it for pre-installed bloatware. They've also added a Mobile TV application and once signed up you can stream movies on the ELECTRIFY and even send it out via the HDMI-out port to your HDTV. Moving around the widgets is a little choppy but that is thanks to Motorola's UI, other then that everything else was as smooth as butter.
Performance
As usual we've ran a few benchmark tests for everyone and just as we expected the ELECTRIFY performs quite well. The dual-core processor and 1GB of RAM keep this device running strong. Below is our Quadrant results as it is most popular. Then followed by Vellamo that tests the overall performance of everything from web browsing, graphic rendering, and even network performance and the device performed decently here. Although it did fall behind the EVO 3D and Sensation 4G they have a slightly faster 1.2 GHz processor than the ELECTRIFY and its NVIDIA Tegra 2. We also quickly ran a few speedtest results and while the ELECTRIFY isn't running on any sort of 4G or LTE spectrum it received decent speeds across the board. Fairly decent for 3G speeds and about as expected.
Battery life and Camera
Just like the PHOTON 4G the Motorola ELECTRIFY features a modest 1700 mAh battery that should last all day. Whether this is a con or not for users the US Cellular ELECTRIFY doesn't feature 4G WiMAX but the benefit of that is better battery life than that of the PHOTON. Over the past few days we've experienced average battery life that seems to be better than most. I've been using the ELECTRIFY today for about 8 hours and between a few phone calls, web browsing and multiple benchmark tests I'm still rocking a little over 60%. It's safe to say the ELECTRIFY will last most moderate users through an entire day with the possible need for a top off in the evening. If you play Angry Birds all day don't blame me when your battery lasts 5 hours though.
Camera being 8 MP it takes great photos although low light could use some improvement. The shutter speed and autofocus is much quicker than the Bionic and I found taking a quick photo fairly easy with consistent results. Here are a few below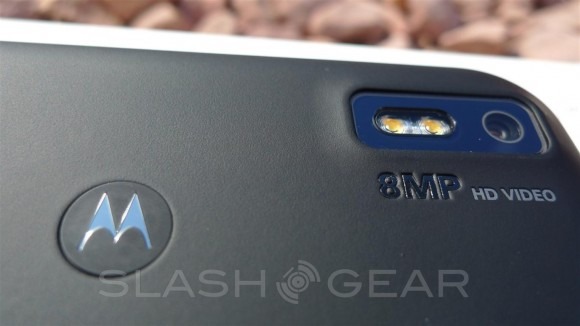 Wrap-Up
To sum things up nicely this is a great all around smartphone. With enough internal storage to last through most users needs no matter how many apps they install, a powerful dual-core processor, top of the line camera all with a bright and brilliant 4.3" display the choice is clear for those on US Cellular. While you may be able to debate if this is one of the best phones around compared to the Bionic or the Galaxy S II (and they are pretty comparable) the choice for US Cellular customers are a clear one. The Motorola ELECTRIFY is hands down the best phone on that carrier regarding Android. Being their top of the line offering and being the only newly released phone with Android 2.3 Gingerbread on US Cellular looking over their phone selection this would be my first and only choice. While a few have been updated to Gingerbread, none are as powerful or as nice as the ELECTRIFY.
The Motorola ELECTRIFY will rival almost any phone on the market and has every feature you could possibly want regarding what is currently available other than maybe 4G LTE and a faster processor. Whether you are a first time smartphone buyer or a long time member of US Cellular this is the phone to choose. Yes it could be a little thinner, and the design is unique and different than most devices on the market this is still a tier 1 smartphone that will make any user happy. It is available today starting at just $199 so head on down to your nearest US Cellular store and snag one up, then come back and tell us what you think in the comment section below. Enjoy the remaining photo's in the gallery below.