Motorola Electrify M Review (US Cellular)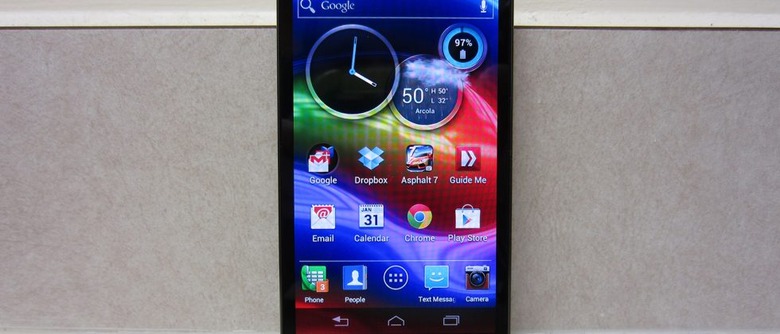 Motorola is really pushing their DROID RAZR series pretty hard, and while they're only exclusive to Verizon customers, the company has been slowly migrating their RAZR lineup to other carriers by making some minor changes to the design and branding. US Cellular already has a few Motorola devices in its arsenal, one of which is the new Electrify M, the equivalent to Verizon's DROID RAZR M, which we took a look at a few months ago. It's available now exclusively on US Cellular at a price of $99 ($149 if you don't have the carrier's 4G LTE in your area). The phone is classified as a mid-range handset, but it proves that big things can come in small packages. However, let's find out if US Cellular's latest Motorola device is worth your time — and more importantly — your money.
Hardware
Despite the Electrify M being the DROID RAZR M's brother, they look hardly alike. The Electrify M has a plain and dimpled silver backplate, while the RAZR M sports the fancy kevlar lining that the DROID RAZR series is known for. That difference alone separates the two devices on opposite ends of the spectrum as far as looks and design. Other than that, though, all the buttons are in the same place — the power and volume buttons are situated on the right side, while the microUSB port, as well as the SIM and microSD card slots are on the left, accompanied with a large flap door. Essentially, this specific layout of the buttons and ports is something we don't see everyday, but it's traditional on Motorola's latest phones, and it's nothing that users won't easily get accustomed to.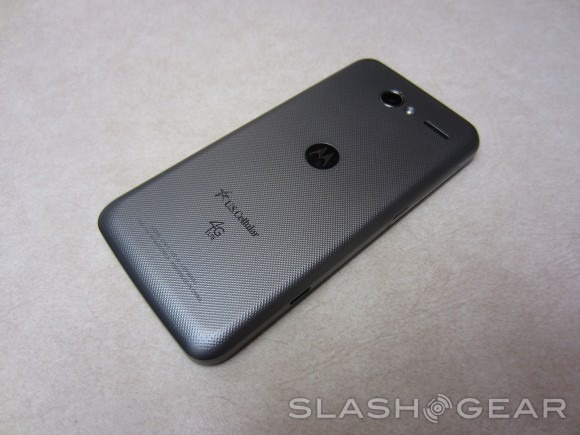 As for the hardware that's inside the Electrify M, it's slightly better than what we're used to seeing in this price range. There's a Qualcomm Snapdragon S4 dual-core processor clocked at 1.5GHz with 1GB of RAM — basically the same combination that we see in other high-end smartphones on the market, like the HTC One X and the Samsung Galaxy S III. Aside from performance-related specs, there's 8GB of storage, and an 8MP rear camera with a 0.3MP VGA-quality front-facing camera. And, of course, there's the 4G LTE chip for access to faster speeds if they're available in your area, which is still only a few select places in the US if you're a US Cellular customer.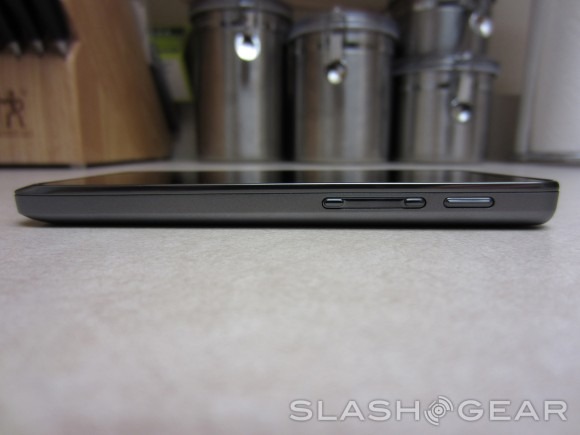 The display is a 4.3-inch Super AMOLED unit with a qHD resolution of 960x540 pixels. The screen is bright and the color saturation is good with decent viewing angles, but its PenTile pixel layout makes small icons and text show up jagged and slightly blurry, rather than sharp and clear. Essentially, it doesn't stand a chance against HD displays of higher-end phones, but it's certainly not the worst display we've looked at. However, one of the key selling points of the Electrify M is its small size despite it's large screen. The entire device is just slightly larger than the iPhone 4/4S, which sports only a 3.5-inch screen, compared to the M's larger 4.3-inch display.
Software
The Electrify M runs Android 4.0 Ice Cream Sandwich right out of the box. It's practically the same user interface as the DROID RAZR M, except US Cellular made some of their own slight changes and added a few exclusive apps to the mix. Other than that, it's what you would expect from a Motorola UI — you can swipe to the left to reveal quick settings where you can toggle various connectivity options, and then swiping all the way to the right will allow you to add a page to the homescreen.
You can also flip around each of the three circles on the main homescreen to suit your needs. For example, you can easily switch between an analog or digital clock just by swiping it up or down. The same goes for the weather circle and the battery circle, where you can flip them over to reveal weather for different cities and show the settings gear icon, respectively.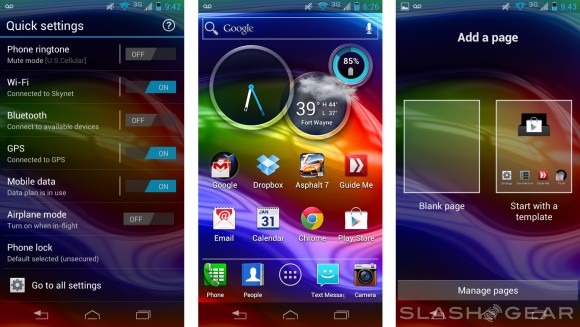 One small gripe I had with the software, though, was that putting the phone on silent mode doesn't silence the camera shutter or the screenshot sound. This may seem trivial, but it was pretty annoying to have to open up the camera app and turn off the shutter sound, even when the entire phone was on silent mode. To make this matter worse, the M has an annoyingly loud shutter sound that's not pleasing to the ear, and I'm pretty sure it cranks out at full volume no matter what the phone's master volume is set at. Again, it might seem like a minute problem, but it can get on your nerves pretty quickly.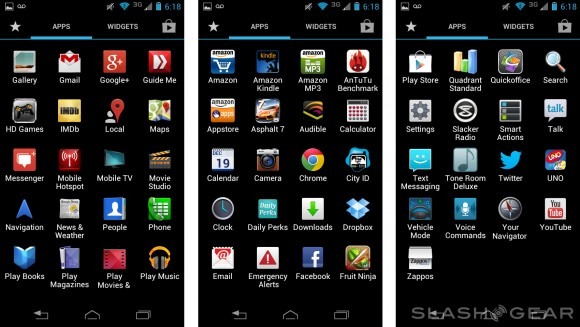 Camera
The M's camera has an 8MP sensor — pretty typical of most smartphones nowadays. However, I got extremely mixed results when taking photos. If there was enough lighting coming from the right angles, I was able to get some really good shots, but outdoor pictures were pretty frustrating to deal with. Sometimes, even if I wasn't pointing the camera at the sky, the sensor would automatically adjust the exposure based on the sky anyway, so everything on the ground appeared really dark. Luckily, you can play around with the exposure manually to try to get correctly-exposed photos.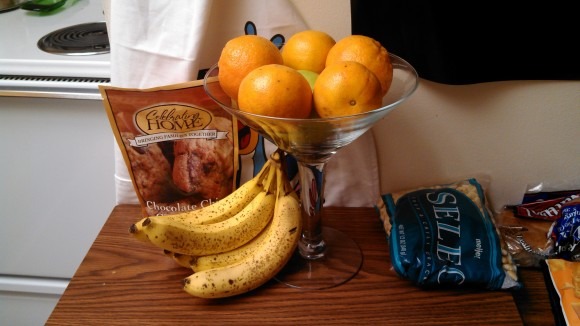 Low-light environments were also kind of a disaster. There were a lot of noise in the photos and the sensor didn't do a very good job of adjusting white balance and exposure correctly. Again, you'll have to resort to manually adjusting some settings in order to get decent low-light photos, which can certainly be a pain in the butt if you're in a hurry. Video recording actually did a better job at automatically adjusting exposure, even outside. I actually couldn't find much to complain about as far as video capabilities — it shoots 1080p video well, and I rarely noticed any clipping or focus issues.
Benchmarks, Performance, & Battery
Benchmarks of the Electrify M were rather impressive on one end of the spectrum — it scored almost a 5,000 in Quadrant, beating out the HTC One X by a few points. However, in AnTuTu, it scored just under a 10,500, which is right on par with the Samsung Galaxy Note and the Galaxy S II, which are both last-generation devices. However, that doesn't mean the Electrify M can't perform. Thanks to the Snapdragon S4 chip on the inside, navigation was snappy and animations were really smooth. Asphalt 7 played extremely well, and casual games like Fruit Ninja and Angry Birds loaded up really quickly.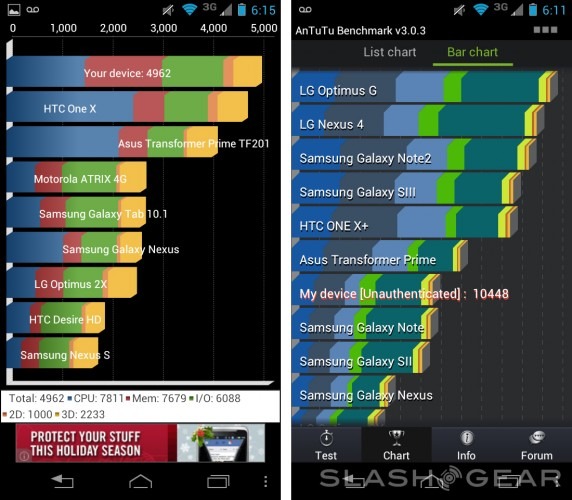 The Electrify M has a 2,000 mAh battery, which is fairly standard for most smartphones today. There wasn't anything that stood out as far as battery life, though. It wasn't draining more quickly than I expected, but it didn't last longer than I expected either. I ended up almost going 21 hours before the phone started to warn me to plug it in. Normal tasks, like checking email and surfing the web, doesn't take a lot out of the battery at all — the screen was the biggest culprit if anything, but gaming isn't the same story. As expected, playing Asphalt 7 for about 20 minutes drained the battery by roughly 10%, so going from a full battery to a completely drained battery would allow for about an hour and a half of non-stop gaming if that's the case. While that's hardly enough time for a solid gaming marathon, it's definitely not a huge surprise.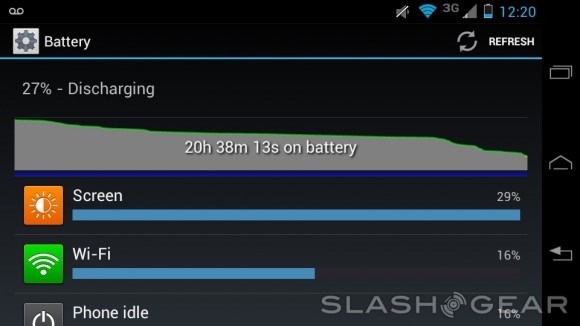 Wrap-Up
In the end, the Electrify M isn't too special. We've essentially seen this phone before in the DROID RAZR M on Verizon, obviously, but for those wanting to stick with US Cellular, this is the exact alternative. What makes this phone really stick out from the crowd, though, is its compact size and huge screen. Fitting a 4.3-inch display on roughly the same footprint as the iPhone 4/4S is really impressive, and that's thanks to Motorola's "virtually borderless" display that's one of the main selling points of the handset. However, the pricing model is a little odd — $99 after signing a two-year contract, but you have to pay $50 more if US Cellular's 4G isn't available in your area, something that isn't even under your control. $99 isn't a bad price, but Verizon is selling the equivalent for only $49, which makes it pretty absurd to pay $149 for the Electrify M, let alone $99.