Motorola Droid X2 user guide turns up on Motorola support site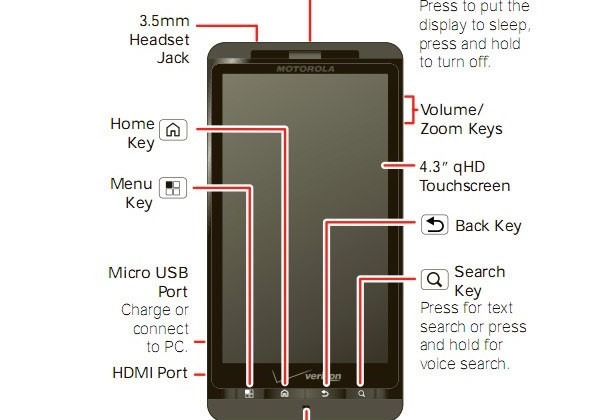 We may receive a commission on purchases made from links.
I know that bunches of people out there are anxiously waiting for the Motorola Droid X2 to surface at Verizon. The smartphone has been tipped for a May 26 launch, which is next week. The smartphone has some cool features, one of which is the giant high-resolution screen that the smartphone uses. Some of the smartphone specs have been confirmed with the user guide for the Droid X2 turning up over on the Motorola website for your perusal.
The spec sheet is in PDF format and confirms that the smartphone will run a dual-core 1GHz processor, and has a big 4.3-inch qHD resolution screen. A big screen and fast processor aren't the only specs that the smartphone hides though. It also has a mini USB port and a HDMI output along with a 3.5mm headphone port on top for listening to your tunes and watching content privately. The rear camera of the smartphone is an 8MP unit.
That camera can record 720p HD resolution video and storage for the Droid X2 is an included 8GB microSD card. The operating system is Android 2.3. We still don't know the pricing on the X2 just yet. I think it would be a safe bet to assume the smartphone will sell for around the $199.99 price point where most new devices come to market. Bluetooth and GPS capability are also included in the smartphone features.
[via Android Community]