Motorola Droid X for Verizon Android 2.2 Update Getting Pushed to Devices Tomorrow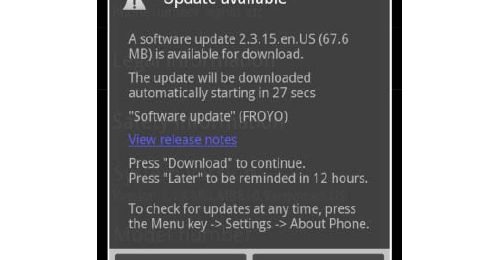 It looks like Motorola and Verizon were able to stick to their guns on this one, and have gone through the paces to provide the update to Android 2.2, better known as Froyo, for the Motorola Droid X before the end of the third quarter. The update is scheduled to start rolling out to owners of the Droid X beginning tomorrow, and as most Over the Air updates go, this one will also be a staggered roll out. However, Verizon is quick to point out that you don't necessarily have to wait.
As with other updates that have been pushed out, users can go into the settings of their Droid X and search out the update on their own. All you have to do is go into the Menu, find Settings, and then head into the About Phone area. Once you get there, you'll see the System Updates area, which you can touch. Once you do, the device will start searching for any recent updates to your handset. In this case, it just happens to be Android 2.2. Here's the directions directly from Verizon:
"Customers do not have to wait for the over the air push, they can obtain the official update via the device itself by following these steps: "Menu" > "Settings" > "About Phone" > "System Updates". For more information and step-by-step instructions please visit www.verizonwireless.com/DroidXsupport."
For those with a little bit more patience, you can wait it out until your device lets you know that there's a system update waiting for you. The update itself is 67.6MB in size, and is bringing with it a few more feature additions, beyond Android 2.2. It will provide some speed improvements, as well as the new patched version of Flash Player 10.1. You'll get automatic updates for your apps through the Android Market, and better mobile 3G hotspot performance, amongst others. Head on through the source link for all of the other details, as well as downloadable instructions.
[via Verizon]