Motorola Droid Solves a Rubik's Cube Thanks to LEGO Robot [Video]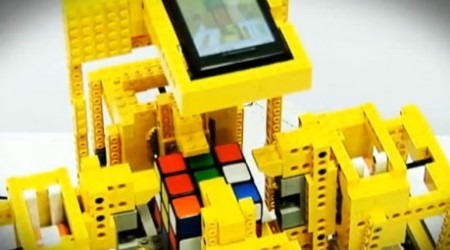 While some robots are made to teach you something, or even go easy on your pocket book, this little do it yourself LEGO robot is just about the coolest thing we've seen today. There's a lot going on here, especially with the inclusion of the Motorola Droid suspended over the Rubik's cube in question, but we have to admit. The fact that this application allows for the Android-powered handset to solve a cube we've never come close to solving in just 25 seconds is mighty impressive.
The creator, David Gilday, has actually solved a Rubik's cube by way of LEGOs before, but this time around there's a Motorola Droid powering the whole event. It's running a customized application on the phone, and from what we can tell in the video, it's using the camera on the back to keep track of the cube below it, as the device tells the LEGO robot what to do next.
The things that people create are just awesome, aren't they? Just to have this little robot in our homes, just to show off to everyone we know would be something worthwhile, and we imagine that Gilday has done the same thing, even before he put the video on YouTube. Check it out below and tell us what you think.
[via Ubergizmo]