Motorola DROID RAZR MAXX coming Jan. 26th with 3,300 mAh battery in tow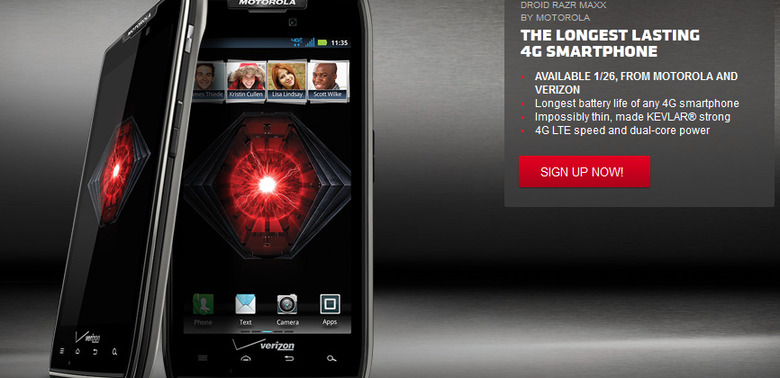 Earlier this week Motorola announced another handset to invade the signals of Verizon 4G LTE in the DROID RAZR MAXX. Stating this wasn't a replacement over the original RAZR just recently launched — but an improved version with a larger battery. We were able to run it down on the showroom floor at this weeks CES 2012 and you can see our hands-on below. At no point was a release date detailed or confirmed — until now.
Motorola was tight lipped during CES and all they had in response to our questions on a launch date was "coming very soon". Now the details have been revealed by Motorola themselves right on their website. Clearly stating that the new Motorola DROID RAZR MAXX will be available starting Thursday, January 26th.
The new MAXX edition will be exactly the same as the original we reviewed late last year — only it will offer a larger battery. Motorola will be launching the MAXX with a 3,300 mAh battery promising over 21+ hours of solid use. Enough for any hardcore power user, or a busy business-minded individual. The same 4.3" qHD display, 1.2 GHz dual-core processor, Android 2.3 Gingerbread and 8 MP camera will all be present. The original was just over 7mm thick and the new model will still be RAZR thin at just 8.9mm according to Moto. For a comparison that is about the same thickness as the Samsung Galaxy Nexus.
The new Motorola DROID RAZR MAXX will also come with 32GB of storage rather than 16GB, and will set you back an additional $100 over the original.
[via Motorola]