Motorola DROID RAZR M announced with near edge-to-edge screen
The DROID RAZR M has suffered numerous leaks in the past few weeks, leading us to believe that Motorola would unveil the new device at its press event today. Sure enough, Motorola has officially announced the DROID RAZR M at Gotham Hall in New York City. It may not be as major as the announcement of the Motorola RAZR HD, but one look at the specs and you'll probably agree that the DROID RAZR M can hold its own.
The most noteworthy feature of the DROID RAZR M is the new edge-to-edge screen. The 4.3-inch Super AMOLED Advanced display is touted as having "almost no borders," so that should capture some attention. Just as interesting is the fact that the RAZR M will be running Android 4.0 Ice Cream Sandwich out of the box, but Motorola promises that it will be getting an update to Jelly Bean. Other features include an 8-megapixel camera capable of 1080p video capture, a dual-core processor, NFC and 4G LTE capabilities, 8GB of storage, and 1GB of RAM.
This phone is also ready to take a beating – though we don't suggest that you go out of your way to try to damage it. With that Motorola Kevlar backing and Gorilla Glass featured though, it'll be a good handset for the more clumsy folks among us. It looks pretty sleek too, with Motorola touting the fact that the RAZR M is "significantly shorter and narrower than the original DROID RAZR" even though it features the same size screen. Not too shabby if you ask us.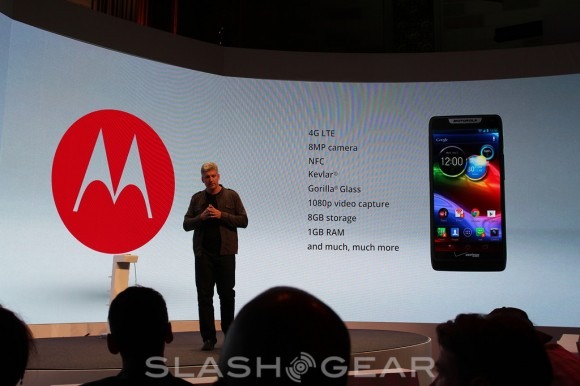 Surprisingly, Motorola says that the DROID RAZR M will be available starting next week for only $99. It's up for pre-order at Verizon starting today at 5 PM Eastern. Google has wasted no time putting Motorola to work after the buyout earlier this year, and now Motorola has a few of brand new devices ready to offer the full Android experience. This team up marks the beginning of "the new Motorola," so we should be seeing some exciting things coming up soon. Stay tuned, because we'll have a hands-on with the DROID RAZR M coming up shortly.