Motorola Droid 4 Hands-on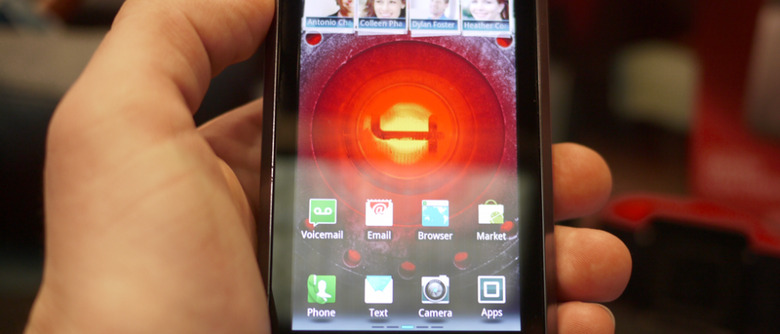 The folks at Motorola have finally come clean with the next in line DROID device for Verizon's 4G LTE network, this a qwerty keyboard slider running Motorola's own user interface over Android 2.3.5 Gingerbread and having the same capabilities, to a point, that the RAZR has: this is the Droid 4. What we've got going here is a rather tough (or solid, however you look at it,) slider with a backlit set of keys, a dual-core 1.2GHz dual-core processor with 1GB of RAM, and they've put it on paper that it'll be running Ice Cream Sandwich in the near future.
On the back of this device is an 8-megapixel camera, on the front is a camera fully capable of working with you for video chat, and you'll be able to work with it with all of the Lapdocks in the latest line: the 100, the 500 Pro, and the rest of the HD dock suite. This device is a half-inch thick, works with mobile hotspot out of the box, and is going on sale "in coming weeks." It'll be sold on a two-year agreement for more than likely right around $250 USD and in general feels pretty nice to hold.
Have a peek at our hands-on pics and video and let us know: is this everything you've been waiting for? When a device has been leaked as much as this one have, we've got to expect that it either affects you in a way that has you chomping at the bit to get it or tired to death of hearing about it – this certainly is a wicked qwerty – is it your next?