Motorola Droid 3 Teardown Reveals Same 3G Chip As iPhone 4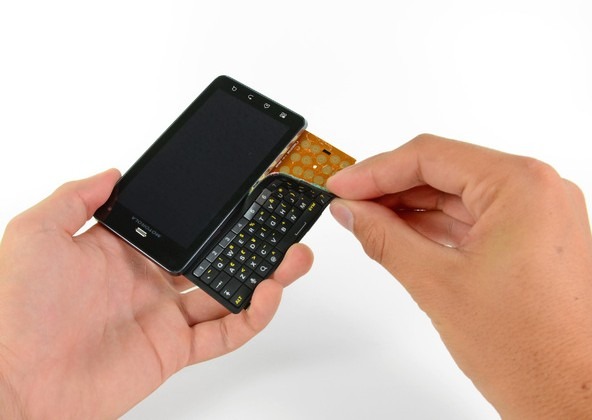 The recently launched Motorola Droid 3 is touted by Verizon as the thinnest smartphone to pack a slide-out full QWERTY keyboard and some mighty powerful specs. The iFixit team has managed to do a teardown of the Droid 3, revealing all the internal components and a compact build that made for a difficult disassembly.
The Droid 3 features a 4-inch qHD 960 x 540 touchscreen, a front-facing camera, and an 8-megapixel rear-facing camera capable of 1080p full HD video capture. It comes running Android 2.3 and can function as a mobile hotspot, but unfortunately, does not support Verizon's 4G LTE network.
Inside, the Droid 3 was found to use the same Qualcomm MDM6600 as the CDMA iPhone 4, but makes full use of the chip for roaming with support for both GSM and HSPA+. Other components include a 1GHz TI OMAP 4430 dual-core processor, SanDisk built-in flash memory, and a SIM card slot for use as a world phone.
The teardown also revealed that attempting to repair your Droid 3 should the need arise will be a difficult task. Packing in all the specs into such a compact package required more adhesive bonds to hold the parts together in lieu of screws. This means the repair of some parts are near impossible.
The full list of components removed from the teardown are as follows:
- Qualcomm MDM6600 supporting HSPA+ speeds of up to 14.4 Mbps

- SanDisk SDIN4C2 16GB MLC NAND flash

- Elpida B4064B2PB-8D-F 512MB RAM

- TI OMAP 4430 CPU (hidden underneath the Elpida RAM)

- Triquint TQM7M5013 Linear Power Amplifier

- Kionix KXTF9 11425 1411 three-axis accelerometer

- Qualcomm PM8028 chip that works in conjunction with the Qualcomm MDM6600 to provide wireless data connection

- Hynix H8BCS0QG0MMR memory MCP containing Hynix DRAM and STM flash
[via Electronista]