Motorola DEXT hits Orange UK from October 7th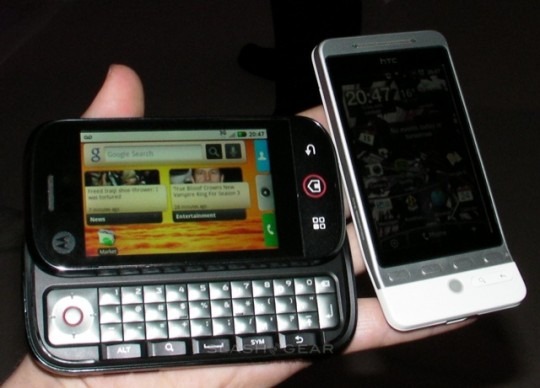 Motorola have confirmed that their first Android smartphone, the Motorola DEXT, will arrive in the UK come Wednesday October 7th.  Stealing a leap on its US cousin, the Motorola CLIQ, the DEXT will be available exclusively to carrier Orange, and be priced at free to anybody willing to sign two years of their life away to a £34.26 ($55) per month contract.
The CLIQ introduces MOTOBLUR, the company's attempt to pull together social networking streams into a single feed.  After logging in to all of your different social media sites – Facebook, Twitter, MySpace, etc – MOTOBLUR pulls new updates through to a Happenings widget; meanwhile you can also update one or all of your networks directly from the CLIQ's QWERTY keyboard.
As for the CLIQ, meanwhile, T-Mobile USA won't begin taking preorders for their version of the Motorola handset until October 19th.  The phone itself will ship from November 2nd, meaning UK users will have almost a month of extra play before their US friends can join in the fun.
[vms f2ff029a833cccc778fd]