Motorola CLIQ with MOTOBLUR now available on T-Mobile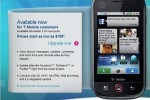 If you are a T-Mobile customer and you have been waiting to get your hands on the slick Motorola CLIQ with MOTOBLUR today is the day. The device is now available on the T-Mobile network. The rest of us not on T-Mobile will have to wait until November 2 to get the CLIQ in our grubby little mitts.
We posted a full review of the CLIQ last week and found it was the most appealing handset from Motorola in a long time. It's the first Motorola device that I have been remotely interested in since the RAZR was the handset to have years ago. The Android powered device is built around social networking and other features.
In case you somehow missed the device before, the handset has access to Facebook, MySpace, and Twitter from the home screen and offers 3G connectivity and a full HTML web browser. The handset also has a 5MP camera. The CLIQ sells for $199 with a 2-year contract and requires a data plan. T-Mobile offers the CLIQ in black or white colors.