Motorola CLIQ Android smartphone announced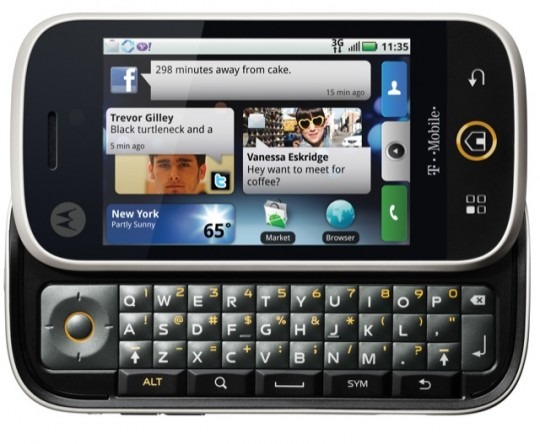 As promised, Motorola have announced their first Android device, the MOTOCLIQ, at the Mobilize conference in San Francisco today.  The Motorola CLIQ will be an exclusive for T-Mobile in the USA and go on sale before the holidays; it has a 3.1-inch HVGA 320 x 480 touchscreen, 3G, WiFi and a flip-out QWERTY keyboard.  Meanwhile the new MOTOBLUR system syncs contacts, messages, feeds, photos and more from Facebook, Twitter, Yahoo!, Gmail, corporate email Last.fm and more, putting all of the new information on the smartphone's homescreen.Click over for full hands-on video!
Motorola CLIQ hands-on:
[vms 8137a16a1acd04ed9112]
Like HTC Sense, Motorola have developed custom widgets for their device, which put access to MOTOBLUR social networking, weather, browser and widgets.  There's a single widget which allows you to send status updates either to one, several or all of your social networks with a single tap; meanwhile a homepage network "window" widget shows the stream of newest information.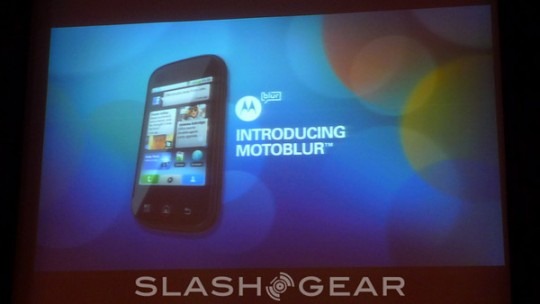 There's also a Messages widget, which integrates different types of messaging into a single window; as Motorola says, it's a way to see the communications without needing to know how they were delivered.  Like the Palm Pre, MOTOBLUR automatically combines different contacts from different platforms into a single list, together with showing statuses from each of those platforms and offering ways to communicate with each of them.  You can, for instance, leave a message on someone's Facebook wall directly from the contacts page.
MOTOBLUR Video demo:
[vms 79d135ba18e051673d90]
MOTOBLUR also supports remote wiping through a secure website.  If you lose your phone, you can clear it remotely but keep your data to load back onto your replacement device.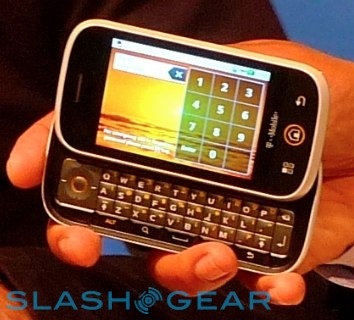 The Motorola CLIQ will be available in two colors, Winter White and Titanium.  It has a 5-megapixel camera with autofocus, 24fps video capture, a 3.5mm headphone socket, the usual Google browser and integrated GPS with turn-by-turn directions.  A microSD slot comes complete with a 2GB card, and the Amazon MP3 store app is preloaded.  Of course there's also the Android Market, and the usual Google applications.  The CLIQ is expected to hit T-Mobile USA in Q4 this year, price tba.
Motorola will also launch the same device – as the Motorola DEXT – around the world, including Orange in France, America Movil in Latin America and Telefonica in Spain.  Motorola are promising a second device that will be announced later on in the year, and launched in time for the holiday season.
Press Release:
T-Mobile USA Unveils the Motorola CLIQ With MOTOBLUR
First Android™-Powered Device from Motorola Puts Social Networking Center Stage

SAN FRANCISCO — Sept. 10, 2009 — T-Mobile USA, Inc. today announced the upcoming availability of the Motorola CLIQ™ with MOTOBLUR™, the first Android-powered device from Motorola, Inc. (NYSE: MOT) and the first device to feature the innovative MOTOBLUR solution. The CLIQ will be available exclusively in the U.S. from T-Mobile later this fall.

Developed by Motorola, MOTOBLUR is an innovative solution that manages and integrates communications – from work e-mail to social networking activity – on your CLIQ. Updates to contacts, posts, messages, photos and more are streamed together and synced from sources including Facebook®, Twitter™, MySpace®, Gmail™, and work and personal e-mail. MOTOBLUR automatically delivers these updates to the home screen in easy-to-view streams so there is no need to open and close different mobile applications to keep up with the latest content. A 3G-capable smartphone featuring a slide-out QWERTY keyboard and a full touch-screen display, the CLIQ is designed to keep the conversation moving, enabling fast messaging on the fly and easy navigation through MOTOBLUR's streams and widgets.

Cole Brodman, chief technology and innovation officer with T-Mobile USA, jointly unveiled CLIQ with MOTOBLUR today with Sanjay Jha, co-CEO of Motorola and CEO of Motorola Mobile Devices, at GigaOM's Mobilize 09 conference.

"T-Mobile's highly social and always-connected customers have a natural affinity for mobile social networking, and we're excited to feature the Motorola CLIQ with MOTOBLUR prominently in what's shaping up to be our most innovative holiday product lineup ever," Brodman said. "The CLIQ lives up to Motorola's tradition of great design and quality, and to our history of working together to create products that enhance the lives and the relationships of our customers."

Jha said, "We're pleased to announce our first Android-powered device in partnership with T-Mobile USA. Motorola CLIQ with MOTOBLUR differentiates the Android experience for consumers by being the only smartphone that automatically syncs conversations, contacts and content, and delivers a solution that's instinctive, social and smart."

The CLIQ expands T-Mobile's compelling lineup of Android devices and underscores T-Mobile's commitment to the open, highly customizable platform that gives developers and manufacturers the opportunity to create truly unique experiences. This continued first-mover advantage with Android lets T-Mobile customers have access to incredible innovation in the Android Market™.

The CLIQ delivers a reliable mobile Web experience by harnessing the power and speed of T-Mobile's 3G network and Wi-Fi. Additional CLIQ features include a 3.1-inch HVGA touch-screen display, a 5 megapixel auto focus camera with video capture and playback at 24 frames per second, a 3.5mm headset jack, a music player with pre-loaded Amazon MP3 store application, Shazam, iMeem Mobile, and a pre-installed 2GB microSD memory card with support for up to 32 GB of removable memory.

CLIQ also features multitasking capabilities and one-touch access to the Google™ mobile services millions use every day, including Google Search™ by voice, Google Maps™ with Street View, YouTube™ and Picasa™. Easy access to both personal and corporate e-mail, calendars, and contacts is supported by Exchange Server and Gmail. E-mail and contacts are also supported by Yahoo!, Windows Live Hotmail, and other POP3 and IMAP e-mail services. It also combines instant messaging support for Google Talk™, as well as AOL®, Yahoo! Messenger® and Windows Live Messenger.

T-Mobile's 3G network is currently available in 200 cities nationwide and covers more than 150 million people. By the end of 2009, T-Mobile USA expects its 3G network to be available to approximately 200 million people across the U.S.

Availability

Motorola CLIQ with MOTOBLUR will be available exclusively to T-Mobile customers later this fall in two colors — Titanium and Winter White. Pricing will be announced at a later date. Customers can visit http://www.t-mobile.com/cliq for more information.