Motorola Announces the ROKR E2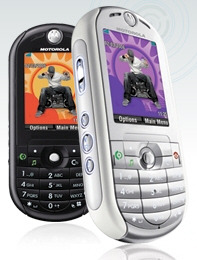 Singapore, 28 August 2006 — Motorola has launched in Singapore the Motorola ROKR E2 – the newest member of the company's ROKR family of music-optimized mobile handsets. Designed for the music enthusiast who wants to carry one device, ROKR E2 lets you take hundreds of your must-have music selections with you – and delivers a world-class wireless communications experience.
Delivering a powerful mobile music experience, the Motorola ROKR E2 lets you switch seamlessly between phone calls and music play lists simply by touching a button. Based on a Linux operating system to enhance speed and flexibility, ROKR E2 also features a robust MP3 player compatible with a variety of different audio formats – making this mobile handset a powerful example of what it means to be "the device formerly known as the cell phone."
Country General Manager, Mobile Devices, Motorola Singapore, Shane Da Silva said that Motorola is driving the convergence of music and mobility by combining the device you never leave home without, with the entertainment that consumers love. "With the ROKR E2, consumers can enjoy the freedom and convenience of carrying their favourite music with them all the time. Motorola is giving people a seamless, mobile music experience with a portfolio of devices like the new ROKR E2 leading the way."
More Music, Faster
ROKR E2 makes loading music simple. Users make a fast connection from the device to a compatible PC using a USB 2.0 cable1. Next, they "drag and drop" digital music files from their PC-based music collection directly to the phone. Each song takes only seconds to transfer from the PC to the ROKR E2. With up to 2GB of optional removable SD mass memory2, ROKR E2 lets you store as many as 500 of your favorite tunes, as well as create and manage playlists. When you're ready to listen to what's on the airwaves, ROKR E2 also comes equipped with built-in FM radio functionality.
Richer Audio Experiences
ROKR E2's features are built for ease-of-use. Dedicated music keys on the handset's side and front let you navigate playlists, as well as play/pause, skip backward/forward, and hold. Connect to ROKR E2 via a standard 3.5mm headset or wirelessly via the built-in stereo Bluetooth audio connection3. Additionally, ROKR E2 comes with airplane mode, allowing you to safely listen while on the ground or in the air. Other multimedia features include a 1.3 megapixel camera for pictures, video capture and playback.
Technically Savvy
ROKR E2 is also part of Motorola's growing portfolio of Linux-based handsets. Open software solutions such as Linux help Motorola create the best mobile experiences for wireless operators and consumers. By leveraging Linux, Motorola can deliver products to market faster, reduce costs and create more innovative products and experiences for mobile music, productivity and entertainment. The company's first "mid-tier" Linux-based device, ROKR E2 further demonstrates Motorola's commitment to driving Linux-for-mobile innovation across the company's device portfolio.
ROKR E2 Availability
The Motorola ROKR E2 is available in Singapore now at an estimated recommended retail price of S$458 with operator contract and S$558 without operator contract. Purchase the new Motorola ROKR E2 and you will get 20 songs of your choice from Soundbuzz (while stocks last).