Moto Z2 Force US Model Tipped With Stunted Specs And Smaller Battery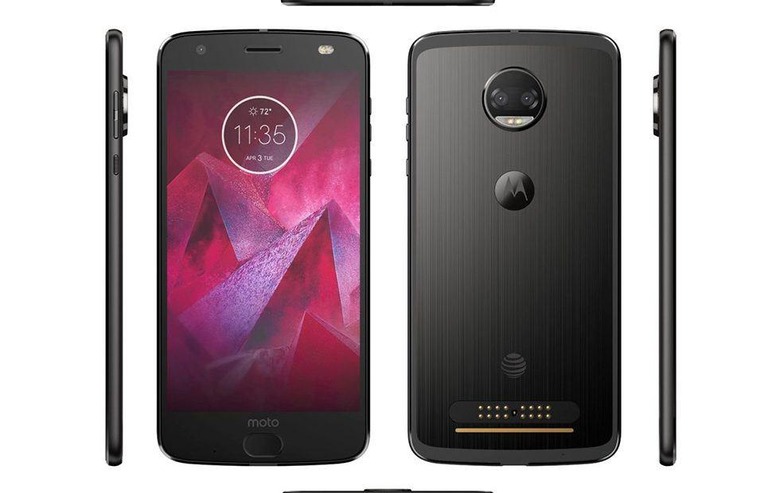 The Moto Z2 Force may prove a disappointment for U.S. buyers if a new report is accurate. According to leaked marketing materials, the model sold in the U.S. will have more modest specs than the versions sold elsewhere, one example being the inclusion of only 4GB of RAM versus the 6GB everyone else will get. The battery, too, will shed considerable capacity according to the materials.
READ: This Moto Z2 Play Moto Mod seemed absurd at first, now it's my favorite
The marketing materials, which were reveled in a leak to VentureBeat, reveal that the Moto Z2 Force's specs will be all over the place. All versions of the handset, for example, will feature 64GB of storage minus the version sold in China, which will reportedly harbor double that at 128GB. The good news on that front, at least, is that the upcoming Moto will pack a microSD card slot with support for capacities up to 2TB.
The Moto Z2 Force will likewise offer a 1440p, 5.5-inch Shatterproof Super AMOLED POLED display, not to mention the same support for Moto Mods that have proven so popular. Under the hood, the leak reveals, will lie a Qualcomm Snapdragon 835 system-on-chip, a boost over the previous model's 820 unit. The upcoming handset will also reportedly sport a pair of 12-megapixel cameras on the back of the handset versus the current iteration's 21-megapixel offering.
What about the battery? The leak reveals that in order to make the Z2 Force suitably thin, the battery will be shaved by 22-percent, decreasing from the current model's 3500mAh capacity to a lower 2730mAh capacity. One could argue that slimness is a necessity to keep the phone from being comically thick when certain Moto Mods are attached, but the fact stands that many people would rather have decent battery life, and it remains to see whether the Moto Z2 Force will be able to provide that.
The marketing materials go on to reveal that the Moto Z2 Force will sport Android 7.1.1 Nougat alongside a nano-coating to keep water at bay. T-Mobile users in the US will reportedly get an exclusive color option — Lunar Grey — whereas everyone else will have to choose between Fine Gold or Super Black.
SOURCE: VentureBeat