Moto Z Play might still have a headphone jack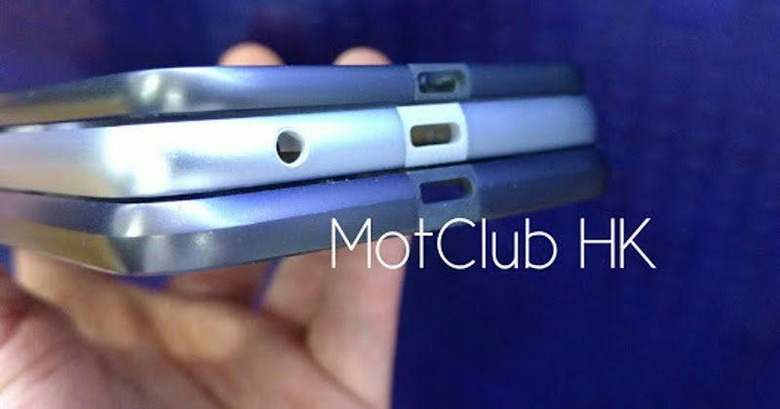 With Apple believed to be ditching the headphone jack for a Lightning port audio output, Android OEMs are scrambling to beat it to the punch. Except with USB-C ports, of course. A good number have already put out such smartphones, but probably one of the first major global OEM to do so is Motorola, or just Moto for short, with the Moto Z and Moto Z Force. It seems, however, that Moto isn't completely jumping ship yet, but will, instead, give the venerable 3.5 mm hole one last hurrah in the Moto Z Play.
The Moto Z Play has, of course, been leaked numerous times, but this is one of the first "real world" appearance as far as a physical object goes. Here it is sandwiched between the Moto Z and Z Force, both of home have no other hole at the bottom except for the USB Type-C port. They don't have speaker holes either.
It is somewhat quite surprising then that the Moto Z Play, which still has to be revealed in any official manner, has two. We still don't know what game Moto is playing with the Z Play and why it chose to still put a headphone jack in there. Perhaps it wants to make the overall cost of the smartphone cheaper by using conventional components and not shipping with an adapter like the Moto Z.
The exact benefits of a USB or Lightning based audio still has to be tested in the real world, where the quality of its output will be judged by audiophiles around the world. It will necessarily be an inconvenience for those with their tried and tested favorite accessories, who will have to bank on the quality and sturdiness of adapters. It might not be something Moto is completely willing to risk yet, especially for not so critical device.
The Moto Z Play, based on recent leaks, is expected to be a mid-range sibling of the new Z family, powered by a Snapdragon 652 and 3 GB of RA. The display, believed to span 5.5 inches in the diagonal, has a 1080p resolution. No word yet on when it will actually be announced and Moto doesn't seem to be in much of a hurry.
VIA: hellomotoHK