Moto Z camera mod leaked to be made by Hasselblad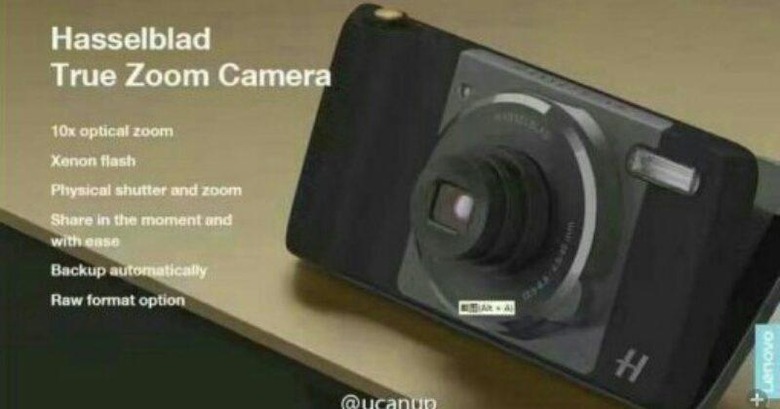 The Moto Z, actually the Moto Z Force Droid, was already rated to have one of the best smartphone cameras in town. But who's to say it can't be made better? Moto definitely doesn't think so. As leaked before, there is still one, or two, official Moto Mod missing from the first batch that Lenovo and Moto unveiled in June. That is the "Pro" camera mod, which is now leaked to be called the "True Zoom Camera" mod and is being made by famed camera and lens maker Hasselblad, adding not just physical controls to the already competitive setup.
Smartphone makers are truly pushing the limits of mobile photography, to the point that they have started roping in big names from the camera industry. Huawei, for example, managed to get Leica's certification for its Huawei P9. Now Moto has gotten some help from Hasselblad, if this leak is accurate.
While this isn't the first "mod" we've seen for a smartphone, the "True Zoom Camera" Moto Mod somewhat one up's the LG G5's CAM Plus mod with a few more features. LG's camera module simply gave users physical controls for the smartphone's camera app, like a zoom dial and a physical shutter button. The Moto Mod version certainly has those and more.
According to the leaked image, the mod comes with a 10x optical zoom and a Xenon flash, features rarely found in smartphones. The mod will supposedly also allow users to shoot in RAW format, an important requisite for professional digital photographers.
How the mod will accomplish this still remains to be seen. Especially considering the mod's lens sits somewhat in the middle, at an offset from the smartphone's own camera, which is nowhere to be seen here. No word yet on when it's exactly set to be announced, so avid mobile photographers will just have to sit for a while.
VIA: hellomotoHK