Moto X4, DROID version photos leaked with odd design choices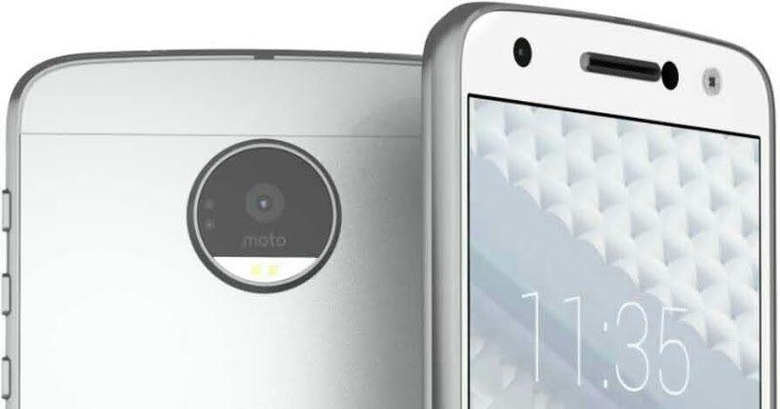 It's been a while since Motorola has put out a smartphone that was the center of the market's attention. It seems, however, that the fourth gen Moto X will generate a lot of noise, and not all of them will be good. If you thought the physical home button slash fingerprint sensor on the front of the 4th gen Moto G was bad enough, take a gander at what is supposed to be the Moto X4's newest design. That includes a large, bulky camera sensor smack in the middle of the smartphone's back.
People have been complaining about camera bumps ever since they've started showing up on smartphones, so it seems pretty darn cheeky for Motorola to actually give them something worse. We are going to presume that there is a very good reason for this new obnoxious detsign, like a dual LED flash right beside the sensor, though others have done similar things without going overboard. The camera even looks a lot like the face of a Moto 360 smartwatch, especially with the notorious "flat tire" design.
Another new design, a bit "inspired" by the iPhone perhaps, is the volume and power buttons. Instead of a volume rocker, Motorola seems to have decided to go with two separate buttons instead. The slight problem is that all three buttons are equidistant from each other, which will require a bit of memorization and muscle memory to distinguish them without looking.
Flanking the home button on the front are two holes that seem to be sensors of some kind, perhaps infrared or proximity sensors. These positions are usually reserved for navigation buttons when a physical home button is present. The absence of distinguishing marks could perhaps imply that users will be able to choose what the buttons do, but we won't be holding our breath.
On the opposite face, there are two rows of holes. At first glance and at least in one photo, they look like speaker holes. But in two others, they seem to have gold contacts typical of connectors. Why the Moto X would need that many, we can only guess for some sort of data exchange.
Perhaps the one good news these leaked photos show is that Lenovo has decided to continue the near-exclusive relationship between Motorola and Verizon that has given birth to the DROID line of devices. That said, unlike previous DROIDs, this one shows a more playful, colorful streak in contrast to the usual somber and rugged appearances of past DROIDs.
Motorola, under Lenovo, is making some very bold moves here in terms of design. It almost as if it is giving users the exact opposite of what they want. Of course, that presumes these three photos are the real deal. We won't have long to wait to find out, as rumors say that Motorola will reveal its new smartphones in July.
SOURCE: hellomotoHK