Moto X Review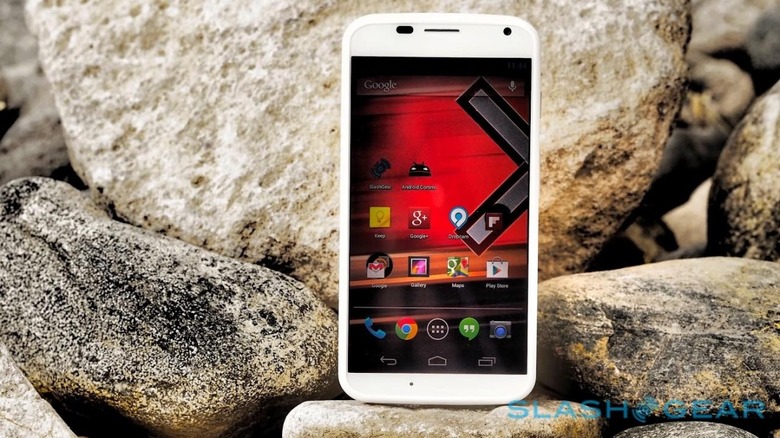 Motorola needed to reinvent itself, and the Moto X is the result of that forced evolution. Guided – albeit at a remove – by new owner Google, the Moto X attempts to do what, arguably, no other Android phone before it has: step off the "biggest, fastest, brightest" treadmill and focus instead on the sort of real-world functionality that Motorola claims will make a significant difference for users. In doing so, though, Motorola pits itself against handsets that on paper at least are much more powerful than the Moto X, despite being the same price. Crazy strategy, or does X mark the spot for the future of Android? Read on for the full SlashGear review.
Hardware and Customization
Build quality is a topical subject in smartphones at the moment, and the Moto X wades in somewhere in the middle. Unlike the HTC One, it bypasses metal in favor of plastic; unlike the Samsung Galaxy S 4, the plastics themselves are dense and lack the glossy finish that has proved polarizing around the Korean flagship. It's also splash proof, with Motorola using a special coating treatment to make even the circuitboards inside water-resistant.
The Moto X launches across five US carriers near-simultaneously, a rare event in a market better known for its exclusivity periods. However, not all carrier offers are created equal: on Verizon, T-Mobile, Sprint, and US Cellular the Moto X will be available in either black or white, whereas on AT&T there's the full benefit of Motorola's Moto Maker online tool to customize the phone. Front, back, and highlight trim will all be interchangeable, at least at the point of assembly; there's no way to switch out, say, the back panel yourself once it's built, so it's worth giving some serious thought to exactly how lurid a device you're willing to carry every day.

In total, there'll be 252 different color combinations to piece together for AT&T's version (though other carriers will get the Moto Maker option as Motorola rolls it out progressively) made up of a choice of eighteen back panels, two front panels, and seven "accent colors" (i.e. the volume/lock buttons on the top and side, and the camera bezel). They range from the subdued – blacks, creams, and grays – through to the bright – like purple, lime green, and red – each with the same sturdy, tactile finish.
The back has a reasonably pronounced curve across it, filling your palm neatly, and is finished with a crosshatched texture that makes gripping it easy. Branding is mercifully limited to a small, round Motorola "M" in the middle and the carrier logo at the bottom; the front is completely logo-free. At 65.3 x 129.3 x 5.6-10.4 mm and 130 grams it's a surprisingly compact device, even though it shares the same 4.7-inch screen size as the HTC One – the minimal top and bottom bezels help, here – and while it's not exactly the most premium-feeling phone we've touched, it's solid and reassuringly sturdy.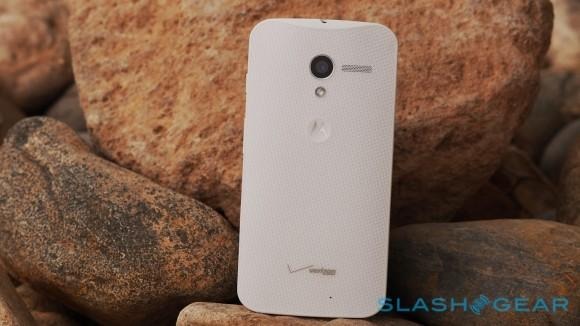 Motorola's customization options open up another avenue for differentiation: producing the Moto X in the US. Unlike just about every other mass-market phone (or, indeed, tablet, laptop, or other electronics device of the moment) the Moto X is assembled in the US, in this case by a team of around 2,000 in Fort Worth, Texas.
To be clear, that team isn't constructing the Moto X from bare boards and chips. Instead, it pieces together the various components – the multiple color sections, along with 16GB or 32GB of storage, and an optional printed message on the back, along with either a black or white charger with a useful two USB ports – according to each Moto Maker order, with Motorola saying it expects a roughly four day turnaround. Those who can't wait will be able to pick up all-white or all-black versions in-store instead. If you don't like your customized colors, you can send it back within fourteen days for a refund or exchange; Motorola even supplies it already logged into your Google account.
There's certainly a shortage of color in the mobile market today, despite ranges like Nokia's Lumia line-up, and the array of options for the Moto X is a welcome one. We're also intrigued by Motorola's promise to keep pushing out new options, including using Facebook polls to decide which is next; the wood-finish versions shown off at the launch, though not yet available, are particularly eye-catching.
Whatever the combination you end up with, you get the same ports and connectivity: a 3.5mm headphone jack on the top, a SIM tray (taking a nano-SIM, like the iPhone 5) on the left, and a microUSB on the bottom. Inside, there's what Motorola is calling its X8 Mobile Computing System, which falls somewhere in-between the truly custom chipsets in the iPhone and the off-the-shelf chips in, say, LG's range.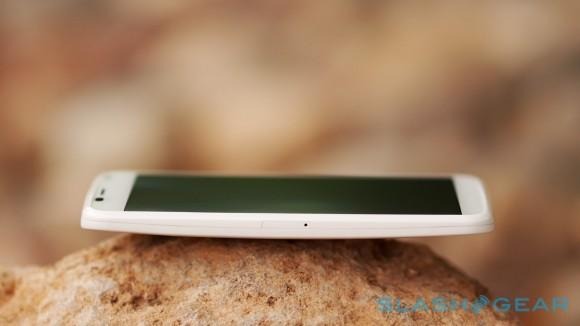 The X8 comprises a mixture of generic and custom processors. So, you get Qualcomm's dualcore 1.7GHz Snapdragon S4 Pro and Adreno 320 quadcore GPU, as we've seen on other phones, but here paired with a natural language processor and a contextual computing processor. Motorola claims that, while the functionality of the latter two could be performed in software, by giving them dedicated silicon it's more efficient and power-frugal.
Unfortunately, you don't get a microSD card slot, though Motorola will include two years of 50GB Google Drive capacity on top of the 15GB new users get free. Connectivity includes LTE and CDMA/EDVO Rev.A on our Verizon review unit, together with UMTS/HSPA+, WiFi a/b/g/n/ac (2.4/5GHz), Bluetooth 4.0 LE+EDR, and NFC, with support for Miracast wireless display streaming. Sensors include GPS, GLONASS, and a digital compass.
Arguably most controversial, alongside the choice of processor, is the Moto X display. At 4.7-inches, we're instantly fans of the size – it makes for a more hand-friendly phone, that still has enough room to let webpages look their best – but at 720p resolution it doesn't have the same Full HD cachet as, say, the HTC One or Galaxy S 4.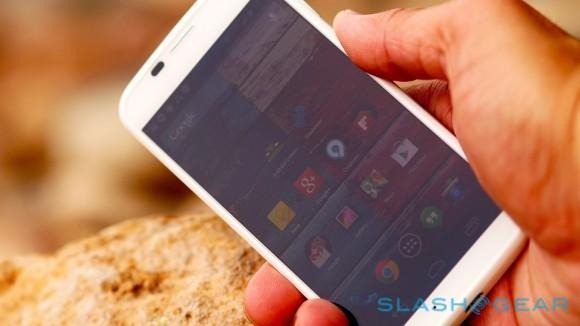 Just as with the decision to go dualcore not quadcore, though, Motorola's resolution decision does make sense the more you think about it. 1280 x 720 spread across 4.7-inches is still 316ppi pixel density, which is more than enough to smooth out any jagged icon edges and make text look great. Meanwhile, Motorola's choice of an AMOLED display opens up the potential for selective display activation, where only certain pixels are lit up. That keeps power consumption down while still allowing for notifications to flash up regularly (more on which in the Software section).
As displays go, the Moto X's screen is great. It has the vibrant colors we're used to from AMOLED but with little of the tinting that some of, say, Samsung's PenTile panels can suffer from. It's also very bright, or at least has the potential to be; the default brightness is a little on the low side for our tastes. Much better is the localized haptics system, which makes it feel like the phone is buzzing right under your fingertip, no matter where you're touching on the display.
Software and Performance
The Moto X is pure Android... almost. We're rapidly running out of names for the gray areas between fully-skinned handsets and Google's pure Nexus range, but the Moto X occupies that confusing area with an only slightly tampered OS.
So, it's Android 4.2.2 Jelly Bean – not, unfortunately, 4.3 as on the latest Nexus and Google Play Edition phones – without any core modifications, and certainly none of the MOTOBLUR molestation of Motorola's earlier devices. However, you do get some carrier bloat: in the case of the Verizon version, that includes VZ Navigator, My Verizon Mobile, Verizon Tones, NFL Mobile, and various others, none of which can be uninstalled. Motorola is yet to commit to an Android 4.3 roll-out schedule.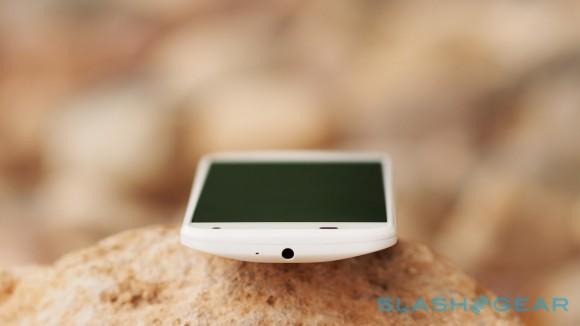 The company's own preloaded apps and services are more interesting than Verizon's. Back when Motorola was first teasing the Moto X, it described the phone as contextually-aware in a way other smartphones aren't; that's down to Motorola Assist. Recognizing that your phone has, courtesy of all its sensors, a potentially huge insight into where you are and what you're doing, Assist promises to automatically switch the Moto X between various usability modes depending on its environment.
Initially, the two key modes are Driving and Meetings. In Driving, the Moto X uses its GPS and accelerometer to figure out you're in motion, and automatically offers to read out incoming text messages and switch incoming calls into speakerphone straight away. A voice prompt guides you through each, announcing callers in the process, meaning no need to look at or touch the display. It's a slick system, especially since you never need to actively remember to turn it on or off.
Moto X unboxing, setup, and walkthrough:
In Meetings mode, the Moto X consults your calendar and automatically mutes itself when it knows you're occupied. Only calls from those on your Favorites list – or anybody who calls twice in rapid succession, optionally – are allowed through. Meetings also works well with the new notifications system, which gently flashes up an alert in the middle of the Moto X's display, along with a preview of its content. You can then swipe up a notification to open it, or down to dismiss it. Pull the Moto X out of your pocket and it's clever enough to know you'll probably want to see the latest notifications; it also smartly shuts the system off while it's actually in your pocket, or face-down on a desk. However, it's worth noting that if you've had multiple alerts come in, you can only preview the very latest when locked.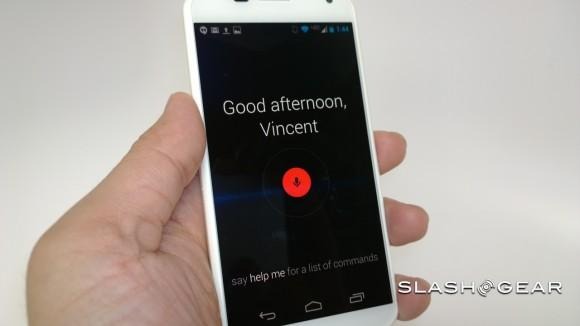 The other big difference between the Moto X and other Android phones is that Google Now is always listening. Taking a leaf out of Google Glass' book, Motorola hopes that Moto X owners will get into the habit of talking to their phone more frequently: say "OK Google Now" and a command – such as asking for a call to be placed, a new message to a contact, for navigation instructions, or a question of the web – and the phone automatically wakes up and carries out your order.
Since that has worrying potential if your friends or colleagues are feeling mischievous, the Moto X demands some initial training before the system works. When you first turn "Touchless Control" on – it's off by default, perhaps as a compromise for those concerned about privacy – you have to run through a quick three-step process of teaching the Moto X your voice. That basically involves repeating the same "OK Google Now" phrase three times in a row, making sure your intonation is the same each time.
That done, we had surprisingly solid results with the system. It managed to recognize us even with the Moto X several feet away, and the tri-microphone noise canceling array did a good job of filtering out music we had in the background and spotting our instructions. Google Now's web-based processing means you need an active data connection in order to use it, and – just as on other Android phones where we've used Now – things like voice-to-text recognition can be patchy in their accuracy, but generally navigating the core features of the Moto X worked surprisingly well.
"OK Google Now" demo:
Touchless Control isn't perfect, however. Ask the Moto X to call someone, however, and it won't automatically switch into speakerphone mode (unless you're driving). At times, when we asked for driving directions, sometimes the phone clicked into navigation mode automatically, and other times we had to do so manually.
The biggest frustration is one of security, though: if you have a lock on your Moto X – which, since most peoples' phones have access to their most important accounts and contact, you probably should have – the security gets in the way. Effectively, if you have a PIN or password set up, you'll be able to (optionally) allow calls to be placed without punching them in first, but everything else – navigation, sending messages, setting reminders – will insist on the Moto X being unlocked before it will carry them out.
There's a caveat to that, if you're a Bluetooth device user. The Moto X can be taught to trust certain accessories, bypassing the lock if they're paired up. So, if you have a Bluetooth car kit, you can have the Moto X automatically unlock itself when the two are within range; similarly, if you use a Bluetooth earpiece, you can have the phone skip the PIN when it's connected. It makes a good argument for a Motorola Bluetooth keyfob, something which would reassure the Moto X that you're around in everyday use, while still ensuring that the lock is active should the phone get left behind or stolen.
Motorola's big claim at the Moto X launch was that its software customization would fill in any shortfall between the physical hardware in the phone and that of its more core-packed rivals. The contrast of benchmarking results and real-world performance seems to bear that out: although, in testing, the Moto X's silicon can't quite compete with the on-paper performance of devices like the Galaxy S 4 and the HTC One, when you're actually using the phone it exhibits none of the sluggishness the mid-tier specifications might suggest.
For instance, applications load without any lag, and the Touchless Control system – which could have been a major pain point – is swift and responsive. The camera (more on which in a moment) is capable of burst-photography snapping image after image for as long as you keep your finger mashed to the screen, and we never had any issues switching quickly between apps.
Instead of worrying about what processor you have, in fact, you simply get on with the Moto X experience. That includes the highly convenient Motorola Connect, an extension for Google's Chrome browser which allows you to read and reply to text messages, as well as see Caller ID on incoming calls. It's not the first time we've seen desktop control over a mobile device in that way, but it's another nod to convenience and real-world functionality that epitomizes the Moto X.
Moto X Walkthrough:
Camera
If there's a part of the Moto X proposition that resorts to number boasting, it's the camera. Motorola's 10.1-megapixel Clear Pixel sensor – with its claimed 75-percent light sensitivity thanks to a new "RGBC" red-green-blue-clear CMOS – is paired with an f/2.4 aperture lens though lacks optical image stabilization, and the company claims it's altogether as much as twice as fast as rivals.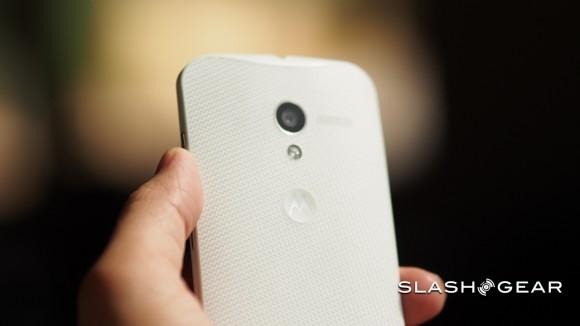 For all the hyperbole, the Moto X camera app itself is refreshingly devoid of extraneous options. In fact, you'll have to go hunting to find a single option whatsoever: Motorola obviously expects the sort of user who finds the phone's everyday simplicity appealing to also be they type to want zero-thought image capture. Flash settings, panorama and HDR modes, and optional tap-to-focus are hidden in a basic menu pane summoned with a left swipe, but for the most part it's a case of tapping the display where you want focus and exposure to be set, and having the image automatically taken.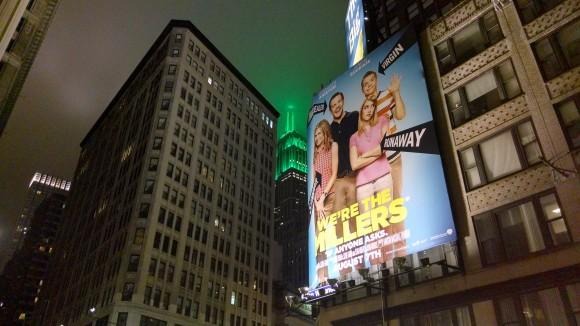 Even getting into the camera app is made straightforward, with a neat little Quick Launch physical shortcut. Rather than a physical camera button, the Moto X recognizes when you twist your wrist twice and jumps into the app, bypassing the lock-screen in the process. Motorola says it takes less than two seconds from locked to taking photos, and that turned out to be true.
Moto X camera demo:
As we mentioned, burst photography is supported by keeping your finger on the screen, and you're able to take as many photos as you have free storage. The results are mixed, however, with the 16:9 aspect stills leaning on the side of over-processed. Sometimes that works in their favor, with bold colors and low-light performance that pulls out detail rival devices miss, but at times they can suffer from excess noise.
As for video, that's locked to 1080p Full HD, and while it has the same impressive low-light performance as stills, there are compromises along the way. Although the Moto X may be capable of filming in darker conditions than rival handsets, it ends up introducing noise and skipping frames as it tries to keep up with worsening lighting. Visible, yes, but not the most enjoyable experience, though the slow-motion mode is good fun with the right scene.
Moto X 1080p video sample:
Moto X 1080p night and slow-motion video sample:
Phone and Battery
Just as it does a sterling job of listening out for voice commands, so the Moto X's triple microphone setup works great for noise cancellation in calls. We had no complaints from callers about hearing us, even when out in the street with ample road-noise in the background. Unfortunately, the Moto X's speaker isn't quite so refined, certainly loud but suffering distortion at the top end. Even though it's placed on the back, it somehow sounds like it's radiating out through the front of the phone as well, which offsets the absence of front-facing speakers as on the HTC One.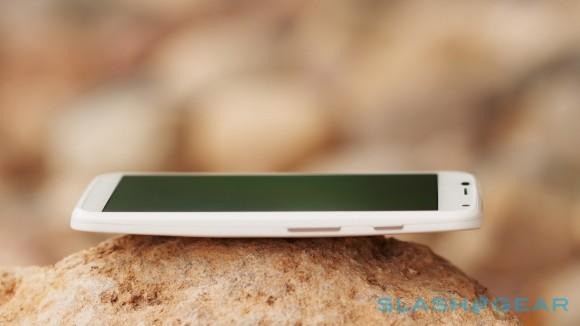 Motorola makes bold claims for the 2,200 mAh battery, which uses a custom design so as to best fill the bowed back panel. In fact, so Motorola says, the Moto X should last for up to 24 hours of "mixed usage".
In practice, we had decent results, but it's worth remembering that "mixed usage" seemingly includes "time on standby" just as much as it does times you're actively using the phone. A full charge took roughly three hours, after which point the Moto X went just over eight hours on a nightstand dropping from 100-percent to 74-percent in the process. With a day of typical use – Hangouts conversations, Google Maps, push email, a few calls, and use of the Touchless Control system, among other things – we went just over 21 hours and 22 minutes until the Moto X told us it was alarmingly low on charge.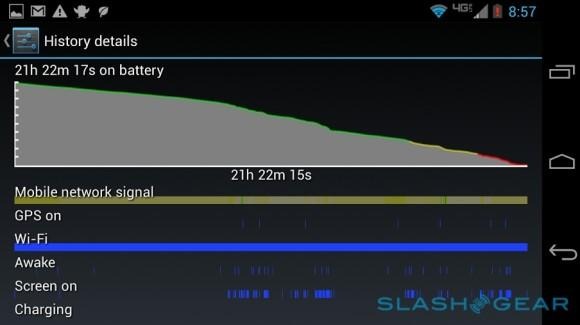 Mid-Range or Ambitious?
At $199.99 with a new, two-year agreement, the Moto X finds itself in some impressive company. That makes it the same price as the Galaxy S 4 and the HTC One, each of which we'd highly recommend, not to mention Apple's iPhone 5.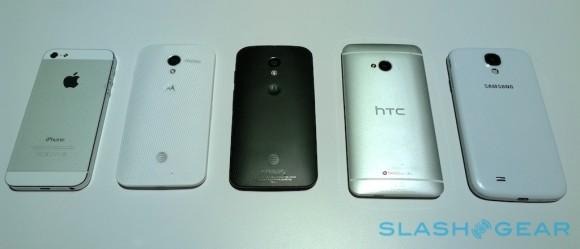 One line of argument is that the Moto X should be cheaper, because its specifications are less impressive. There's certainly a hardware disparity between the Motorola and the two other flagship Android phones. Still, there's also an argument that you're paying not solely for silicon but for the overall experience, and on that basis it's what Motorola has done with its hardware optimization that really counts.
Of course, a $99 on-contract price would've made the Moto X more appealing in-store, where AT&T will have to work hard to convince people that the Moto Maker system is worth the delayed gratification. The big argument may well be the Nexus 4, the off-contract $299 price of which (albeit for half the internal storage) keeps it as our Android phone of choice for the budget-minded, along with the promise of the latest OS versions as Google releases them.
Wrap-Up
The Android smartphone segment had become something of a cliché, myopically chasing specifications and effectively ignoring functionality in the process. The result has been customized skins of questionable appeal to users, and batteries that can't keep up with quadcore processors and vast, power-hungry displays.
In contrast, the Moto X offers a different way: effectively top-tier performance with a mid-tier set of specs. The danger for Motorola is that it's a far tougher way to sell a phone than simply cherry-picking the latest hardware; the upshot for users is that they get a device with thoughtful features that actually offer a real benefit in everyday use.
Motorola has a challenge on its hands convincing people that a plastic phone with specifications that actively bypass superlatives is just as capable as its rivals; the fact that Moto Maker will be limited to one carrier initially is also a frustration. The Moto X, though, deserves a chance to convince. More than the sum of its parts, it's not a perfect phone but it is a capable and considered one, demonstrating there's more than one way to approach the smartphone market.