Moto X 3rd gen leak: larger screen, same res, microSD slot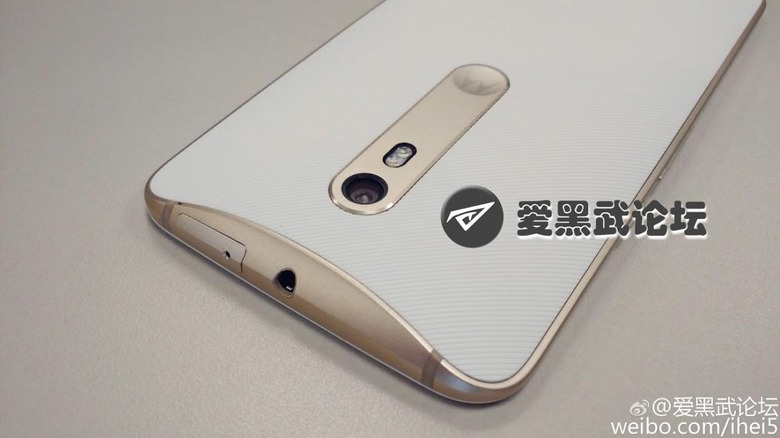 It's about time that Motorola's flagship get its fair share of leaks, though it might barely matter with just a few hours left before the real deal hits. That is, unless Motorola's 28th July event is meant only for the new Moto G. In any case, the Moto X that is being revealed in this latest leak may or may not be worth all the excitement. Sure there are marked improvements over last year's model, but depending on what you're looking for in a 2015 flagship, you might be a bit disappointed.
The next Moto X will be larger, says the source, thanks to two things, a larger 3,600 mAh battery and a larger 5.5-inch screen. That said, the latter is still the same FHD resolution as the 2014 model and not the 2K QHD that many might be hoping for. No word on internal storage but the biggest surprise is that there will supposedly be a microSD card slot. But not just an ordinary one, but the same two-in-one tray that many Chinese smartphones seem to have these days. This means you can either have two SIM cards slotted inside or one SIM card and one memory card.
The camera have also been upgraded, 21 megapixels on the rear and 5 in front. That's definitely a substantial upgrade, though megapixels are just one part of the camera story. Other specs, as well as performance, are equally or even more important. Previous leaks hint that the Moto X will have a dual LED flash on the back, same as the Moto G.
CPU and RAM are still unknown, at least from this particular leak. It might as well be a Snapdragon 810 since everyone seems to be going for that, though an 808 is also likely and perhaps preferable. We would be pleasantly surprised if there were 4 GB of RAM inside, though 3 GB is probably closer to reality.
All in all, the 2015 Moto X looks like a very mixed bag, making it harder to consider this a substantial leap forward from last year's model, especially with its rather odd back design. That said, we'll reserve judgment when the real Moto X stands up.
VIA: +hellomotoHK