Moto X 2017 leaked video almost reveals all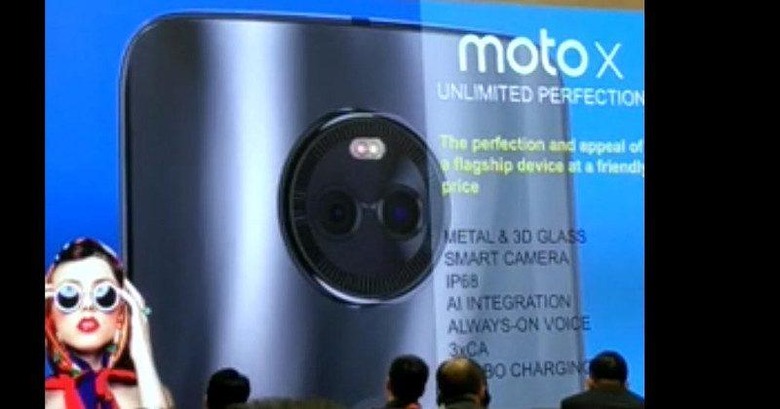 The 2017 Moto X is still a thing, even though it's been months of silence from Motorola on that front. But we might actually be closer to the launch of the once high-end flagship. A presentation in China showed off a video of the Moto X, which some brave spectator caught on camera and spread on the Web. And with nearly all the "official" details of the phone, we're finally getting a more concrete look at the Moto X 2017, which seems quite different from what has been leaked so far.
Let's start with the specs. There was a bit of bewilderment on how Motorola plans to present the Moto X now that there's a Moto Z flagship line. Especially when there's an actually mote affordable Moto Z Play. Earlier leaks presented a Moto X 2017 with some rather high specs, which is now debunked by this more or less official list.
The Moto X 2017 will get a 5.5-inch "3D" display and will be powered by the new Qualcomm Snapdragon 660. The phone gets 4 GB of RAM and 64 GB of storage. There's IP68 water resistance, a fingerprint sensor, and "AI integration".
In terms of design, the Moto X will indeed have dual cameras. But unlike previous leaks, the position of the LED flash seems to be in an odd place. It's located at the top instead of the "flat tire" area at the bottom.
Depending on how the Moto Z2 Play will turn out, there could be some overlap between these two mid-range models. The line, however, could be drawn between Moto Mods and battery life. Based on the latest leak, the Moto Z2 Play will support Mods but will have a smaller battery. The Moto X 2017, in contrast, ditches the mods but gains a 3,800 mAh battery in return.
VIA: Reddit