Moto G4 arriving next month, pricing announced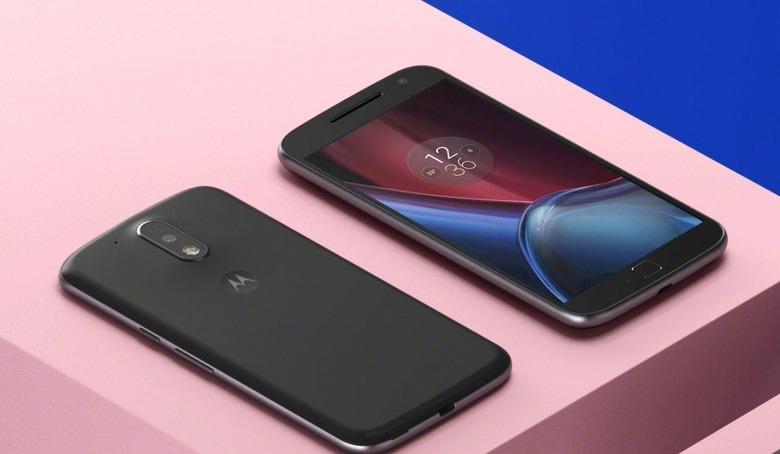 Motorola's Moto G line has proven to be quite popular with consumers over the past few years. It isn't really all that surprising, considering that Motorola found a way to offer a decent, desirable phone at a price that won't set you back hundreds upon hundreds of dollars if you're one of the many who like to purchase their phones outright. Today the company dished pricing and release details for the newest Moto G phones, and it appears the next generation in the lineup is right around the corner.
Both versions of the fourth-generation Moto G (dubbed the Moto G4 and Moto G4 Plus) will be arriving on July 12, a mere two weeks from today. Motorola plans to introduce its newest budget-friendly handsets at retailers like Amazon, Best Buy, Sam's Club, Wal-Mart, and on Motorola.com, with the standard Moto G4 starting at $199.99 and the Moto G4 Plus starting at $249.99. Those prices align well with Moto Gs of the past, giving customers a solid mid-range option without the need for contracts or monthly installments on their phone bill.
Which version of the newest Moto G is right for you, though? While the "Plus" in its name seems to suggest otherwise, the Moto G4 Plus actually isn't any larger than its less expensive counterpart, as both are sporting a 5.5-inch display with the same 1080p resolution. For that matter, both models have the same 3,000mAh battery, the same turbo charging capabilities, and the same Snapdragon 617 octa-core processor. They're also both universally unlocked, meaning they'll work on any carrier in the US, regardless of whether they're CDMA or GSM. The only real differences between the two models are in the camera and storage options: the Moto G4 Plus has a 16 megapixel rear-camera as compared to the Moto G4's 13 megapixel shooter, and you can choose to upgrade the RAM and storage on the Plus to 4GB and 64GB, respectively.
So, there aren't many difference between the two models, and it seems like the base $200 G4 will be suitable for most folks, especially considering that they both come with microSD slots to expand on the internal memory. Are you planning on picking up the Moto G4 when it launches next month?