Moto G2 release date said to be September 10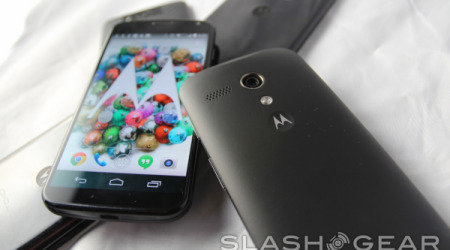 We've heard a lot of rumors surrounding the Moto X+1, slated as Motorola's follow-up to their flagship Moto X. Not a lot has been learned about a refreshed Moto G, though. A new report, citing sources very close to the situation, say a device named the G2 — a follow-up to the Moto G — will come to us September 10th.
GSM Arena says they've learned from one retailer, who reports they heard it straight from a Motorola representative, that the G2 would hit store shelves on that day. That rep also said the G2 would have a 5-inch display, and be Dual-SIM. Some retailers may end up with the device by the end of August, but can't sell them at that time.
Pricing is expected to be 250 Euro, which tells us where this info comes from, regionally speaking. That's a significant hike over the current Moto G pricing, suggesting Motorola will lean a bit more on the Moto E to carry their low-end mantle.
The Moto G2 is expected to have a Snapdragon 400, Adreno 305 GPU, 1GB RAM, and 8GB Memory (we haven't heard if it will be expandable or not, but it should be). An 8MP camera is also around back, along with a 2MP shooter up front. The screen is a limited 720p resolution.
It may not be the smartest time to release the Moto G2, though. If Apple really comes through and announced the iPhone 6 on September 9, we're sure the fever-pitch excitement wouldn't have died down in a day. Though they don't compete, it's hard to think the Moto G2 will see much major press the day after Apple makes their big announcement.