Moto 360 in gold, brown leather strap sighted in Amazon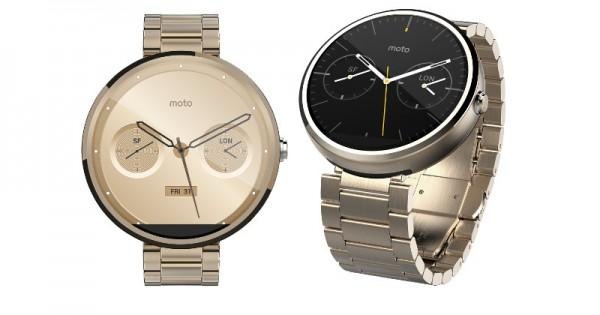 We may receive a commission on purchases made from links.
Smartwatches are the new smartphones, novel, trendy, and still in flux. Just as smartphones had, and still do, a gold craze, it seems only fitting that smartwatches should as well. None or very few smartwatch makers have signed up for a golden version of their smart timepiece but it seems that Motorola will once again beat others to the punch. A golden Moto 360, both in wide and slim band variants, have appeared on Amazon's shelves ahead of any formal announcement or even clue from Motorola.
One could probably say that Motorola is a sort of trend setter in smartwatches. Back when everyone was doing square faces, Motorola dared to be different and showed what you can do with a circular display. Now every other smartwatch maker, including LG, is trying to do that as well. Whether or not the round face actually works as good as it looks, we'll have to wait for more real world testimonies.
Now Motorola might be starting a trend again, one that we could have probably seen a mile away. After all, some smartwatches aim for a premium look, and what could be more premium than gold? The champagne gold Moto 360, available in 18 mm and 23 mm golden metal straps, have appeared rather silently on Amazon. Motorola has, of course, promised more strap options for its first smartwatch, but it never let on that it is planning on a completely new color offering. This golden variant isn't ready to be bought yet but it has already been tagged to cost $299.99 for both strap sizes.
As for new strap options, Motorola apparently has one already prepared as well. Or rather, a Moto 360 variant with a new strap. This one comes with a silver main body and brown leather cognac straps. Also not yet available for purchase, this one costs the usual $249.99.
SOURCE: Amazon (Moto 360 Gold 18 mm), (Moto 360 Gold 23 mm), (Moto 360 Leather Cognac)
VIA: Phandroid