Motionbox adds tags to video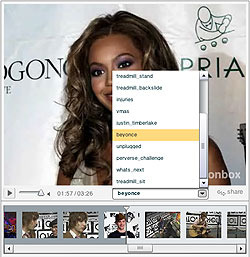 As bandwidth grows easier and easier to acquire the number of embedded videos increases to gobble it up – SlashGear itself is bringing you plenty of great footage from CTIA 2006.  One drawback to most clips of any reasonable length is the drag-and-guess process of skipping to the parts you're interested in.  Not so bad with a one minute review, but sodding annoying if it's half an hour or more.
Motionbox is, at first glance, just one more of the dozens of video hosting sites that allow you to embed a clip on your site or blog.  What makes it exciting is their new deep-tagging feature: individual frames from the video can be tagged with one or more keywords, allowing viewers to skip directly to those sections.  Sorting it into chapters becomes incredibly easy, but why stop there?  Any mention of a particular celebrity could be tagged, or download links for convenient review after watching.
Deep-tagging requires Flash 9, a free download, and Motionbox itself is free.
Motionbox [via Lifehacker]