MotionBee platform for remote motion control debuts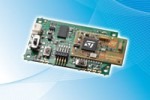 MotionSensing controllers have become a big deal since the Wii hit the market a few years ago. The PS3 has motion sensing though it's more of an afterthought than a slick part of the console. STMicroelectronics has announced a new motion sensing tech called MotionBee today for remote control applicaitons.
MotionBee is a complete and ready to use platform that combines state-of-the-art motion sensing with ZigBee wireless tech in a single compact module. The product allows developers to design wireless sensor networks for remote motion recognition and tracking for many different application areas.
ST designed the MotionBee technology with an integrated digital-output MEMS accelerometer with a ZigBee platform EM250 SoC along with a 2.4GHz IEEE 802.15.4 compliant radio. The module is fully programmable and is small enough for wearable medical or sports equipment integration. Samples of the first MotionBee device are priced at $60.