Motion J3500 rugged tablet arrives [Video]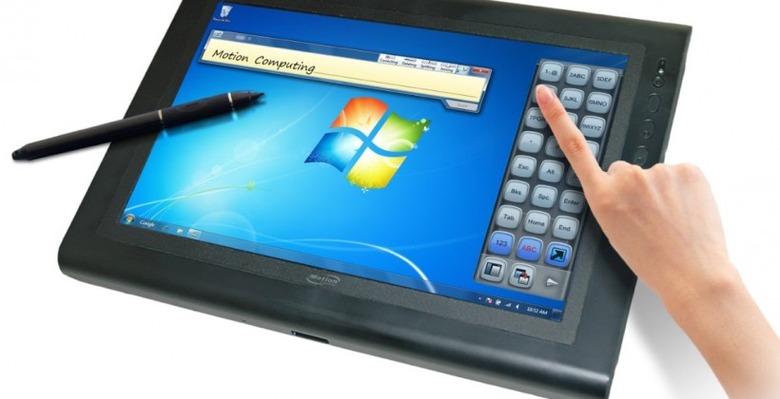 Tablet manufacturer Motion Computing has outed their latest model, and while the J3500 rugged slate may not appeal to the same audience as the iPad (nor come in at quite the same price) that's not to say it's not an appealing machine in its own right.  Packing a 12.1-inch WXGA touchscreen – with various types of touch support on offer – and a choice of Intel Core i5 and i7 processors, the J3500 meets military specifications for bumps, drops and other rough treatment.
Up to a 160GB HDD or 128GB SSD are on offer, together with integrated Gobi 2000 WWAN, and there's a 3-megapixel camera too.  As for the display, there are multiple options including indoor/outdoor versions and GorillaGlass toughened versions; all support both active digitizer and capacitive multitouch control.
GottaBeMobile spent a few days with the Motion J3500 and shot the following video demo of it in action.  It's fair to say it's a niche device – it's also pretty heavy, too, thanks to all that ruggedization – and definitely not cheap (think around $3k), but if your needs extend to a little more than a "big iPod touch" then it may be worth a look.Press Release:
Motion Launches the J3500 Rugged Tablet PC

Enhancements include advanced Intel® Core™ vPro™ processors, and a host of new options including dual touch technology, durable Gorilla™ glass and expanded storage capabilities

AUSTIN, Texas – June 22, 2010 – Motion Computing®, a leading provider of integrated mobile computing solutions, today announced the J3500 tablet PC. Built on the Motion® J-Series line of tablet PCs, the J3500 features Intel® Core™ vPro™ processors for enhanced performance, security and manageability. The J3500 also offers a variety of integrated features including touch technology, Gorilla™ glass, and expanded storage options.

New Capacitive Dual Touch

The J3500 with capacitive dual touch enables mobile workers to take advantage of the natural gesture navigation features built in Windows® 7 and other software applications. Optimized for digitizer and touch input, users can navigate touch-enabled software applications or legacy programs with smaller targets that require the accuracy of pen input. For more flexibility, palm rejection technology distinguishes between intentional and false touch while stylus recognition enables users to easily switch between input modes.

"Motion has long been recognized as an innovator in tablet computing, and is again offering new ways for enterprise users to enhance productivity through multiple interaction methods," said Eddie O'Brien, VP Microsoft OEM. "Now, mobile workers can take full advantage of tablet computing, benefitting from the accuracy of pen input and the convenience of natural gestures, enhancing productivity as they navigate applications in the field."

Enhanced Integrated Features

The J3500 also offers new features to help improve productivity and durability across Motion's target vertical markets such as construction, field service and healthcare, including:

Extra-durable Corning Gorilla™ glass, offering up to a 4 times improvement in breakage resistance1, and new anti-smear coating for improved visibility

Enhanced system storage, with available 160GB hard disk drive (HDD), and 64GB or 128GB solid state drive (SSD) options and up to 4GB of RAM

Improved 3.0 megapixel documentation camera

Integrated Gobi2000™ mobile broadband with GPS

"Governments today must empower an extensive mobile workforce that depends on accessing information whenever and wherever," said Darrell Lewis, VP of Product Management at Accela, Inc. "With Accela Mobile Office™ software running on the J3500, field workers in areas such as permitting, licensing, code enforcement, and public works, can take advantage of enhanced mobile computing capabilities in a sleek, rugged device."

Intel Core vPro for Enhanced Performance, Security and Manageability

Now with Intel® Core™ i7 or Core™ i5 vPro™ technology, the J3500 offers a significant improvement in performance and enables Motion customers to experience:

Enhanced remote management capabilities enabling IT technicians to repair and secure the PC from any location, even while powered-down or in sleep mode, enabling greater levels of energy efficiency and streamlined maintenance processes

Increased security with fully manageable hard drive encryption, and Intel® Anti-Theft technology used with Computrace®, protecting valuable data in case of loss or theft

Improved multitasking with smart technology that adjusts processor speed to support workload changes, providing power when needed and working more efficiently when possible

"Enterprises have embraced the J-Series line of Motion Tablet PCs based on their flexibility, performance, mobility and durability," said Mike Stinson, Vice President of Marketing, Motion Computing. "With the J3500, we extend the enterprise benefits with a tablet PC solution that is powerful, durable, multi-functional and mobile, enabling mobile workers to significantly improve productivity and collaboration through real-time access to enterprise data in the field."

Enterprise-Ready, Durable Tablet PCs

Tested to withstand harsh mobile work environments, the rugged and flexible J3500 Tablet PC meets MIL-STD-810G and IP-52 ratings to ensure protection against bumps, drops, rain or other conditions that can damage commercial-grade computing solutions. Additionally, the dual hot-swappable battery solution extends the computing day and enables easy replacement of charged batteries without interruption. Built to fit seamlessly into enterprise environments, Motion's complete line of tablet PCs utilize either the Windows® 7 or Windows XP operating system, reducing the burden on IT and enabling mobile workers to manage the same applications available to office-based employees.

Availability

The new Motion J3500 is now available through Motion's network of value-added resellers and distributors. For more information or to find a certified Motion reseller visit Motion's Channel Resources page.