Most awesome groom's cake ever looks like an engine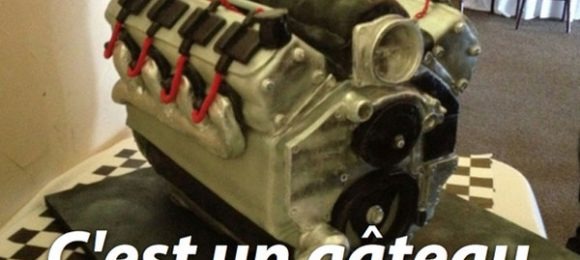 I can remember back when my wife and I were engaged and getting ready for the wedding. She went insane. I learned early when asked directly if I like something, the real trick to marital bliss was finding out what she wanted and using that as my answer. I could have never pulled off something as awesome as this LS1 engine grooms cake.
In fact, the cake is so awesome I'm tempted to let the fact slide that the cake is a reproduction of the engine in the couples Fox body Mustang. Chevrolet engines don't belong under the hood of Ford products, it's sacrilege. The cake is too cool to eat though.
Apparently, the cylinder heads pulled off and were stuck to the main cake body using some, wooden sticks. I suspect in some circles there would be a brawl over who got to eat the spark plug wires, which appear to be Twizzlers. I think I might have had a stroke trying to decide between an engine cake and the classic Picard grooms cake.
[via Jalopnik]