Moshimy mobile phone dock concept spied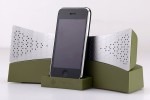 Mobile phone docks today are a dime a dozen. Most of them look a lot alike and share many of the same features. A new design concept from designer Michael Young called the Moshimy has been spied that looks different than the unwashed masses and can charge the device while placing and receiving calls or listening to music.
The dock is pictured with an iPhone in the slide out docking tray. The surface of the dock is covered in brushed aluminum over an olive green finish; it looks very good in a militaristic sort of way. The concept was designed for Native Union and seeks to prey on the worries of some users about cell phone radiation.
The designers say that the dock can remove the user form exposure to about 96% of the radiation produced when making a phone call compared to using the phone itself. Considering that there is still no real proof that cell phones cause cancer, that feature isn't much of a feature really.