Moshi Venturo review; a carry-all for the stylish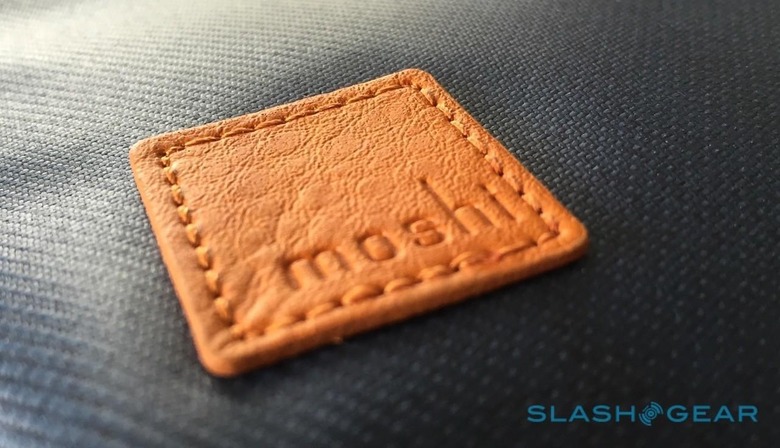 If you're traveling or just migrating through the city and need to tote your tech with you, options abound. One of the more versatile and stylish options, named Venturo, comes to use from Moshi. Though many think of Moshi as an Apple-only accessory maker, Venturo is one that doesn't fill a specific OEM niche; it just wants to be your day-to-day tech bag. Well appointed, Venturo has its sights set on the urban professional who needs to catch the train to work, but has enough bells and whistles for all.
There are enough pockets to keep you comfortably stocked throughout your work day with Venturo. The inner computer pocket is designed to hold a 15-inch computer, and the sleeve just outside it a tablet. Other pockets try to keep the rest of your life wrangled, and a roomy inside also allows for folders or other paperwork you might need.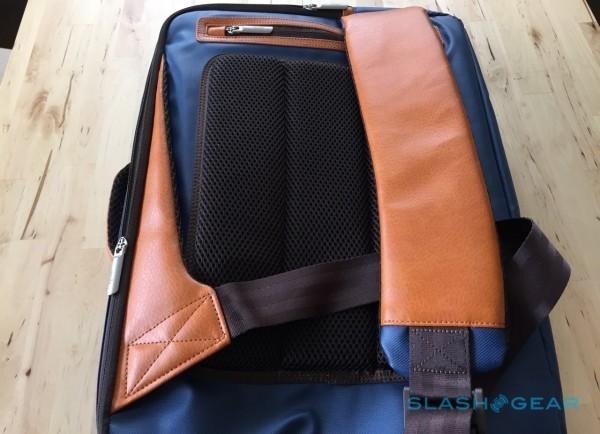 Around the side, you'll have the water bottle holder, and along the inside/rear on the opposite end is a small hideaway pocket for things you don't need access to all the time.
On the front is a slightly hidden front 'dump' pocket, which is nicely padded from the outside world.
Moshi likes to talk-up their quick-release shoulder sling, which is unique to their bags. In the video above, you can see some guy quickly adjusting the strap on the go like a BOSS. I didn't find it so easy, but it's a unique way to get to stuff in the bag while it's still across your body without contorting yourself.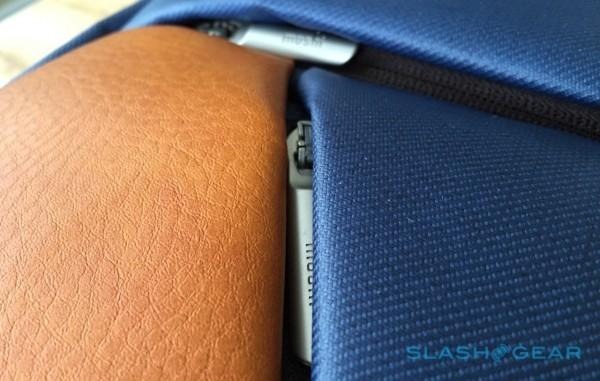 The fabric is a weather-resistant one, made comfortable by the air mesh around the rear. The leather-ish accent pieces (I wouldn't say they're actual leather, but they feel close to it) are a nice touch, too.
For $119.95, cheaper bags are available — they just don't carry your belongings as stylishly, and probably can't hold as much as Venturo can. I often venture out for a coding session or a bout of writing at the coffee shop, and this bag is perfect for those days.
Moshi bills Venturo as 'slim'; something I can't quite endorse. Perhaps I'm spoiled on laptop sleeves that basically slip over the shoulder, but I won't say something that can easily tote a Macbook Pro, iPad, chargers, and a 2-inch binder is 'slim'.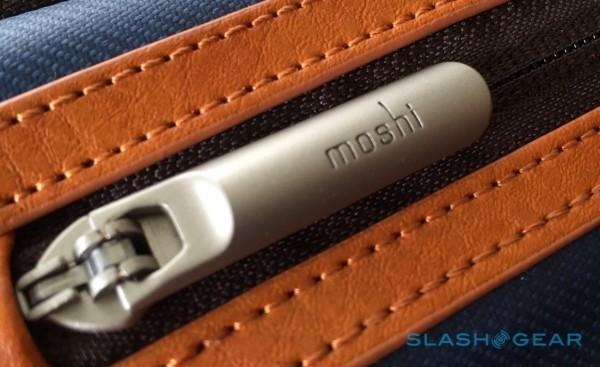 The quick-release thing is also a bit oversold, here. It's as good a method for accessing goods carried around your back as I've seen, but not quite as intuitive as the video would have you believe. Or, I just suck at it (I am a lefty, so there's reason to believe it's all just opposite and foreign for me).
In the face of my own nit-picky issues, I really do like this bag quite a bit. If you're looking for solid protection for your tech with the ability to carry much more, check out Venturo. It's available on the Moshi website, and retails for $119.95