More Rock Band details emerge, 10 tracks confirmed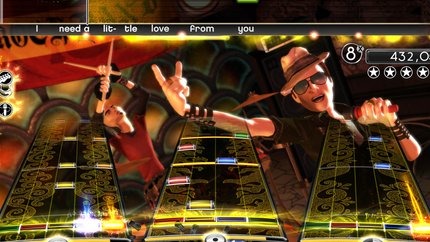 As expected, new details are coming to light about Rock Band 2, thanks to a recent pre-E3 event. A few more of our pressing questions are answered, and 10 tracks are officially announced. Hit the jump for the track listing and other details.
"Ace of Spades" — Motörhead
"Everlong" — Foo Fighters
"Pinball Wizard" — The Who
"Panic Attack" — Dream Theater
"Any Way You Want It" — Journey
"Chop Suey" — System of a Down
"Kids in America" — The Muffs
"Give It Away" — Red Hot Chili Peppers
"Hello There" — Cheap Trick
"Pump It Up" — Elvis Costello
Those tracks are definitely enough to get me excited about the game. But music isn't the only thing that will be new. First, Band World Tour is going online, which has been a highly requested feature of the game. They've also gotten rid of the Band Leader, allowing you to swap out members of the band as you see fit.
Something else that I've been looking forward to is the ability have one character switch between each of the instruments. No longer will I need to have three separate characters for my solo tours. Speaking of the Solo Tour mode, it has been revamped to a nonlinear Tour Challenge, which can be played solo, or with a full band (with members online or local).
Quick Play is even getting some love with the ability to create setlists. This way you can set up a few songs in advance, rather than selecting a new song every time one is completed.
The instruments aren't getting a complete overhaul, but they are getting a few upgrades. The guitar will be wireless out of the box, and will feature a sturdier strum bar, and the ability to auto-sync with your TV to minimize lag. The drum pads will not only be quieter, but will be velocity-sensitive, so that you can a louder or softer sound, depending on how you hit them.
There is likely still more to be announced at E3, so stay tuned for more info. It has been suggested that before the event is over, we should know the entire set list for the game.
[via GameSpot]