More Huawei Ascend Mate images appear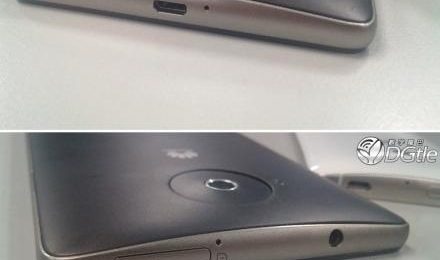 Last weekend, we posted a few photos of Huawei's upcoming Ascend Mate phablet-style smartphone. The images definitely gave us some perspective on just how gigantic this thing really is, and today we've been treated with a couple more images that reveal the overall style and shape of the new device.
The new images show off the top and bottom of the Ascend Mate, revealing a centered microUSB port on the bottom, and a headphone jack and SIM card slot at the top. The images also point out the obvious curvature the the Ascend Mate has, and while the color scheme isn't too exciting, the dark blue and grey seems to go well together in this case.
If you're not up to snuff on Huawei's latest, we'll give you a quick refresher. The Ascend Mate is a 6.1-inch phablet-style handset with a 1080p display. The company doesn't classify the device as a tablet, despite its huge 6.1-inch screen, which almost creeps into 7-inch tablet territory, but we're assuming a lot of people will call it a tablet themselves.
As far as other specs are concerned, we're expected to see a 1.8GHz HiSilicon K3V3 quad-core processor, 2GB of RAM, a whopping 13MP rear camera, and a gigantic 4,000mAh battery to power the whole package. We're pretty sure that this will be the device to take on Samsung's Galaxy Note II, but we'll have to wait until CES in January to find out what it's capable of.
[via Unwired View]