Mophie's Juice Pack Air claims World's Thinnest iPhone external battery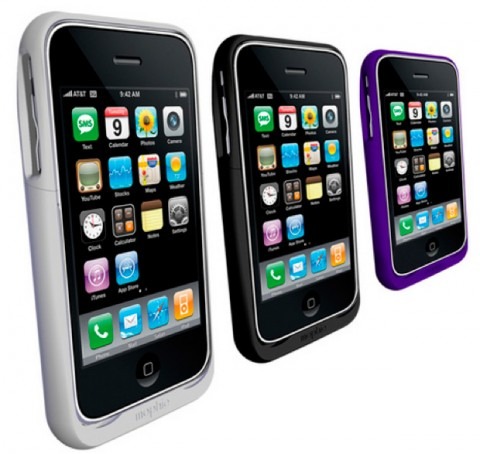 Does your iphone drain battery like water in a sink? I like my iphone but without an extra juice pack, I might well turn the "Push" off or disabling the 3G connectivity, it barely lasts a few hours. We know an external battery works wonder but some of them can be an extra burden on the weight and size. For that reasons, Mophie has its upcoming Iphone's external battery machined in the thinnest profile possible; the All New "juice pack air" is not only world's thinnest, it's also light weight and is multifunctional as a protective case.
The new Mophie Juice Pack Air is apple-certified rechargeable external battery for your iPhone. The thin profile 1200 mAH lithium polymer battery, when fully charged, provides twice as much battery for your iPhone 3G. It has an integrated 4 phases LED to indicate battery status, and also an innovative standby mode to allow the unit functions completely as a protective case.
The Juice Pack Air will be available in three flavors : Black, Purple and White. It's slated to launch from spring at Apple Store or mophie.com at $79.95.
Additional Battery Time Provided by juice pack air

Standby Time : Up to 270 hours

Talk Time : Up to 4.5 hours (3G) Up to 9 hours (2G)

Internet Use : Up to 4.5 hours (3G) Up to 5.4 Hours (Wi-Fi)

Audio Playback : Up to 20 hours

Video Playback : Up to 6 hours