Mophie wants to give your phone 8 days more battery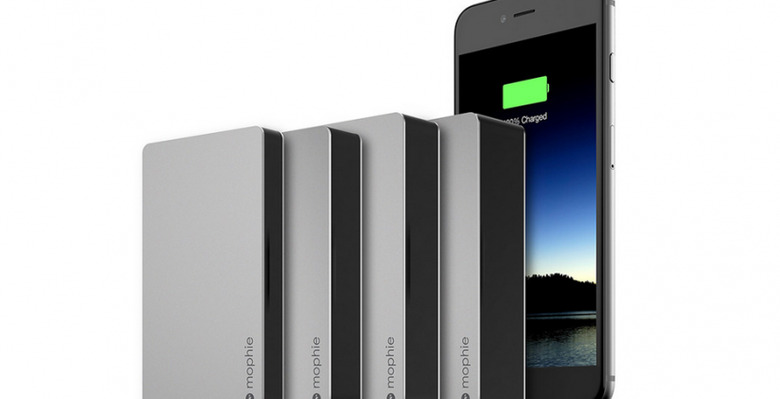 Mophie may be best known for strapping batteries to iPhones and other smartphones in the form of snap-on cases, but the company has a new range of even bigger power-packs, the new Powerstation Plus line-up. External batteries, rather than integrated ones – which means no need to buy a new model if you upgrade to a different phone, something which can get pretty expensive if you've been following Apple from iPhone 4 form-factor, to iPhone 5, and then most recently to iPhone 6 or 6 Plus – each has a built-in cable with either a microUSB or a Lightning plug on the end to suit your various devices.
The casing itself is made from what Mophie says is "aerospace aluminum" and then given an anodized satin finish and a soft-touch coating. The top plate hinges open – the Mophie logo is laser-etched on top, since lasers are cool and regular printing isn't – to reveal the charging cable for your device.
It's also where the Powerstation Plus' own charging connector is, a regular USB plug that pulls out of the other side of the battery pack.
A row of LEDs show the current battery status along one side, and each puts out 2.4 amps of power. Four different capacities are available, starting out from 3,000 mAh, then stepping up through 5,000 mAh, 7,000 mAh, and then finally 12,000 mAh.
That, Mophie claims, is enough to deliver 2x, 3x, 4x, or even 8x your phone's own runtime, though of course that will depend on how big your handset's own battery is.
The Powerstation Plus 4X and Plus 8X each get an extra USB charging port, too, to hook up a second device simultaneously.

Whichever model you pick, however, there's pass-through charge and sync support when you hook up to a desktop or laptop. So, your iPhone can still sync with iTunes even when the Powerstation Plus is hooked up in-between.
It also prioritizes charging your phone in that situation, then turns to the external battery pack.

Powerstation Plus kicks off at $79.95 for the 2X model, with a choice of Lightning or microUSB connectors. The 3X model is $99.95; both are available to order now. As for the 4X model, that comes in at $119.95, while the 8X is $149.95; they're "coming soon," Mophie says.
SOURCE Mophie