mophie Juice Pack keeps Galaxy S5 users from being wall-huggers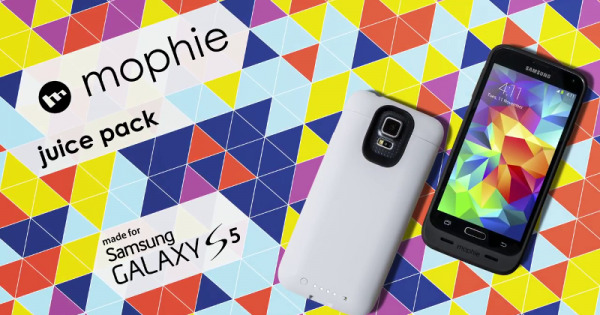 No matter how much Samsung might ridicule iPhone-using "wall-huggers", there will inevitably come a time when the Galaxy S5 will also come close to dying that you'd might want to reach out for a wall too. When that day comes, mophie will be around to catch your fall, with its brand new Juice Pack designed specifically for the Samsung flagship.
Samsung is spending quite a significant amount of time and marketing budget in pushing the Galaxy S5's Ultra Power Saving Mode into people's consciousness. Thanks in part to the Super AMOLED screen, the Galaxy S5 can go into a very low power mode in order to preserve battery charge. That said, most users will probably want their device to be in full performance when and where they need it, and that's where mophie's Juice Pack cases come in.
The Juice Pack for the Galaxy S5 carries a 3,000 mAh battery with it. That's even more than the smartphone's own 2,800 mAh power supply. This gives an advertised 100% extra battery with you all the time. A simple standby switch charges the phone when needed. Just by how much? mophie claims that you get 67 more hours of music, 13 more hours of video, and 12 more hours of Internet.
Of course, as a case, an extra charge isn't the only Juice Pack benefit. It also protects the Galaxy S5, which it self already boasts IP67 dust and water resistance rating, with its internal rubber bumpers adding some amount of shock resistance, though not up to MIL-STD specs of course. There is a lip around the screen for added protection, though some might find that a bit more uncomfortable than with a bare Galaxy S5.
Of course, as with any other battery case, you are sacrificing some bulk and heft for the sake of more power, a sacrifice that some might be willing to make. mophie, however, promises it to be sleek and lightweight enough that it can still easily slip in and out of your pocket. The mophie Juice Pack for the Samsung Galaxy S5 is now available for purchase from mophie's online store for only $99.95. It is said to come in six color options, but the product page for now only shows the usual black and white.
SOURCE: mophie