Mophie Juice Pack iPhone 3G Review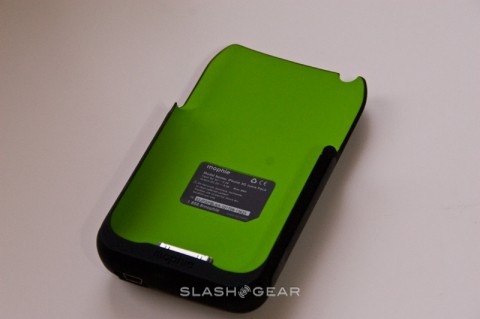 The biggest drawback I have with the iPhone 3G is its battery life when 3G network is enabled. Barely managing a full days standby time with Exchange email syncing switched on, the iPhone 3G clearly needs some extra juice to stay alive; hence why the Mophie Juice Pack for iPhone 3G was developed. Identical in concept to the Juice Pack for the original iPhone, a supplementary battery is hidden inside a partial slip-case.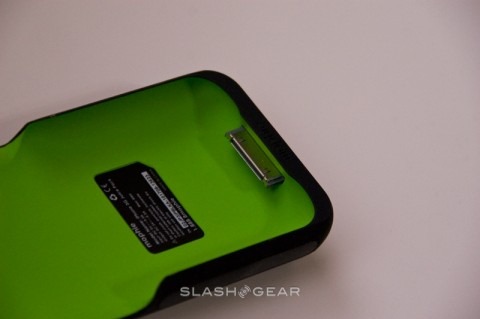 Here, catering for the 3G iPhone, Mophie rate the Juice Pack as offering up to 350 hours of standby time, 6 hours of talk time, 6 hours of 3G data transmission time, 28 hours of audio playback or 8 hours of video playback. While our tests did not meet all these numbers, we managed to get roughly eighty percent of the suggested battery live; we think that's still pretty impressive. The Juice Pack is also clever enough to make the iPhone drain the external battery prior to using its own.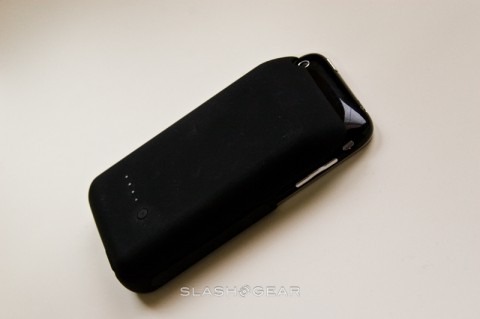 On the back of the Mophie Juice Pack for iPhone 3G is a battery indicator light with a flush-fitting button to display how much battery is left. Plug in the power cable and both the Juice Pack and the iPhone 3G itself are charged up, meaning one less reason to take the phone out. You can also sync the cellphone thanks to the pass-through USB connection, and since the Juice Pack has a mini-USB port rather than Apple's proprietary socket that's likely one less cable to carry about with you. The non-slip soft-grip case fits very nicely in the hand while using the phone, and it was not as bulky as I thought it would be.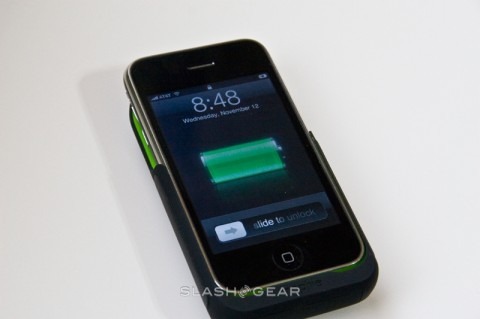 While there are several external battery packs for the iPhone 3G on the market, none of them have the right fit to the handset; the Mophie Juice Pack is the only external battery that I can see myself using, as it does not hinder the usability of the phone and maintains the iPhone 3G form. Of course, the flip-side is that protection is only partial – the top edges of the iPhone are left uncovered – and with the Juice Pack in place the whole thing is too big for a standard case.
Still, the usability benefits outweigh the drawbacks. Priced at $99.95, this is one accessory for the iPhone 3G that we would highly recommend.
Unboxing Video