Mophie brings new iPhone and iPad accessories to Apple Stores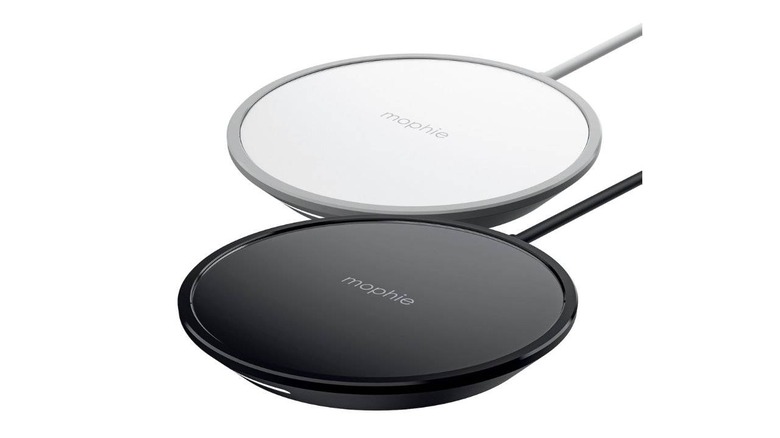 Mobile accessories company Mophie has announced the launch of new charging products for the iPhone and iPad available through Apple. The new product line includes multiple car chargers, a wireless charging pad, and cables designed for Apple's phones and tablets, all of them available through Apple's website and in some of its stores.
Mophie is best known for its battery and charging products, including its juice pack cases for phones that feature built-in batteries. Joining the company's existing catalog is a new Mophie Wireless Charging Pad optimized for Apple products that costs $39.95 USD. The pad offers 7.5 watts of power for Qi-enabled iPhones; it has a smooth polished design and can be used with cases up to 3mm thick.
Joining the wireless charging pad are two new car chargers, one featuring a single USB-A port at $24.95 USD and another featuring two USB-A ports offering a total of 24 watts of power ($29.95 USD). Both models are made from anodized aluminum and are optimized for Apple's USB devices.
Rounding out the newly launched line of Apple-optimized accessories are four USB cables with USB-C and Lightning connectors, each priced at $19.95 USD for the 1 meter length cables and between $24.95 USD and $34.95 USD for the cables measuring 2 meters in length.
The cables are intended for different Apple products; there's the USB-A to Lightning cable, for example, that will work with iPhones, AirPods, and older iPads with the proprietary connector. There's a USB-C to Lightning cable for charging and syncing the iPhone 8 or later, as well as a USB-A to USB-C cable for charging and syncing and a USB-C to USB-C cable with the same capabilities.
These products are now available through Apple's website and in some of its stores; the same items will be available from the Mophie website starting later this month.