Mopar and SRT debut custom Dodge Challenger at Sema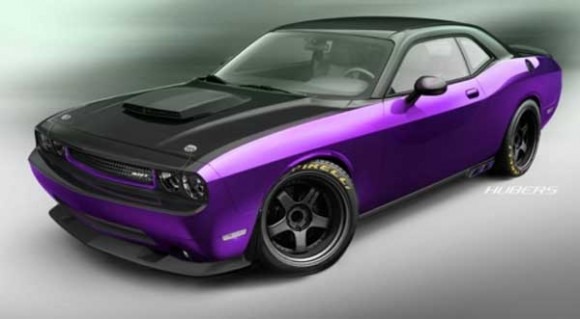 Mopar and SRT have unveiled a very cool customized 2012 Dodge Challenger SRT8 at SEMA. The car was customized for comedian Jeff Dunham and looks like a muscle car straight out of the 60s. The car was dubbed Project UltraViolet and is far from stock.
The engine under the hood of the customized car is a new Mopar 426 crate engine producing 550 hp and 490 pound-foot of torque. The car was customized with help from the crew at Palmer's Customs of Camarillo, California. The car also features a Mopar T/A good with a functional air scoop to feed more air to the massive engine underneath.
The Mopar 426 crate engine was custom tune by Arrington Engines. The company has Mopar-authorized tools and software to create performance calibrations for select 2011 through 2013 Chrysler vehicles. On the outside of the car, the custom Challenger is lowered by 1 inch and rides on 22-inch HRE performance wheels.
The rear of the car was widened by 4 inches allowing for dramatic wheel arches and larger rubber. The car also has numerous custom parts including a new rear diffuser, dive-planes, a new front splitter, new rocker panels, new lower-rear spoilers, a new deck lid spoiler, and custom aluminum side sills with side exhaust. The inside of the car is also customize with full-grain Napa leather and color keyed panels.