Moodo Review : Smart Scent Diffuser works its magic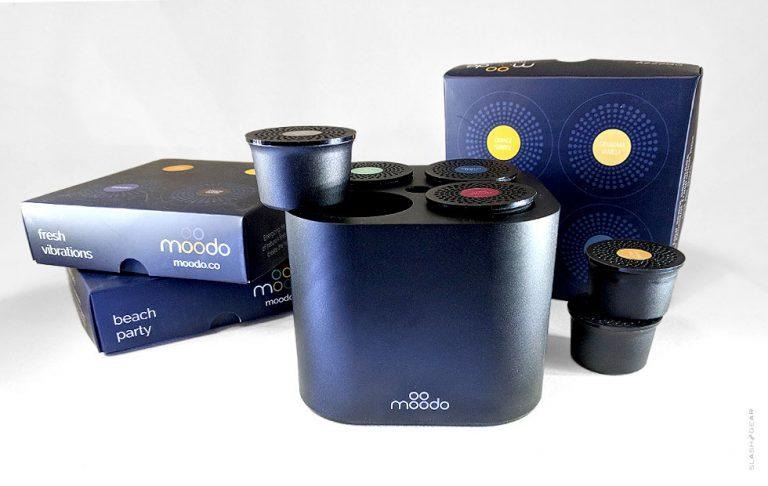 We may receive a commission on purchases made from links.
Over the last few weeks I've been using Moodo, a smart fragrance mixer that allows users to "create their own personalized ambiance." It's gone well, or as well as one might expect such a thing to go. Once I got the hang of creating scent atmospheres in my home, I realized that the device made such activities so simple, I skipped right over the whole "how do I use this device" part of the equation.
Moodo presents a collection of scents in an array of pods. These pods are plugged into the Moodo device. Once plugged in, Moodo releases scents whenever you want, in whatever combination you'd like. Included in the mix I've received for this review were the following scents.
BEACH PARTY:
• Sea Breeze
• Monoi De Tahiti
• Sweet Sand
• Amber Marine
COZZZY:
• Orange Sunrise
• Grandma Vanilla
• Precious Spices
• Midnight Thrill
FRESH VIBRATIONS:
• Wood Royal
• Lavender
• Floral Magic
• Citrus Fresh
Once I got the combinations of scents in each scent pack arranged and a single pack installed, I downloaded the app. The app was exceedingly simple to use. I was able to mix scents, use combinations that were pre-set, and blast scents whenever I wanted, on command. I kept the machine plugged in all of the time – until I realized it had its own re-chargeable internal battery, which allowed the device to continue running without constant wall-charging.
Integration with other smart-home products was relatively simple, but given the potential for mishap with children, I would not recommend it. Once I had the Moodo system connected with Google Assistant, I did a few tests and immediately removed the device from my smart home setup once more. Not because it didn't work – it certainly did work just fine. But given the amount of children that live in my home, the potential for abnormal amounts of scents through Google Assistant commands was simply too great.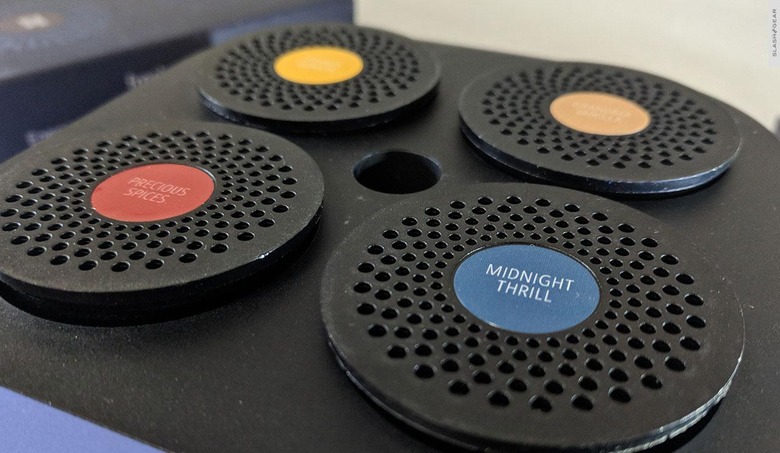 If you live somewhere where nobody but you can control Moodo, I recommend you give it a try. If you live in a home with small children, I recommend you keep the various pods and the device itself away from all low surfaces, no matter what. If your child is particularly adept at Alexa, I'd also recommend staying away from letting Alexa know Moodo exists, too.
The system with which Moodo delivers scents is sound. It works, and it works well. Inside the machine are a series of fans. When one fan is activated, it gently blows through one of four pods, and that pod's scent is distributed through the local area. In addition to working with the app, this machine works with a set of simple-to-understand physical buttons on its side.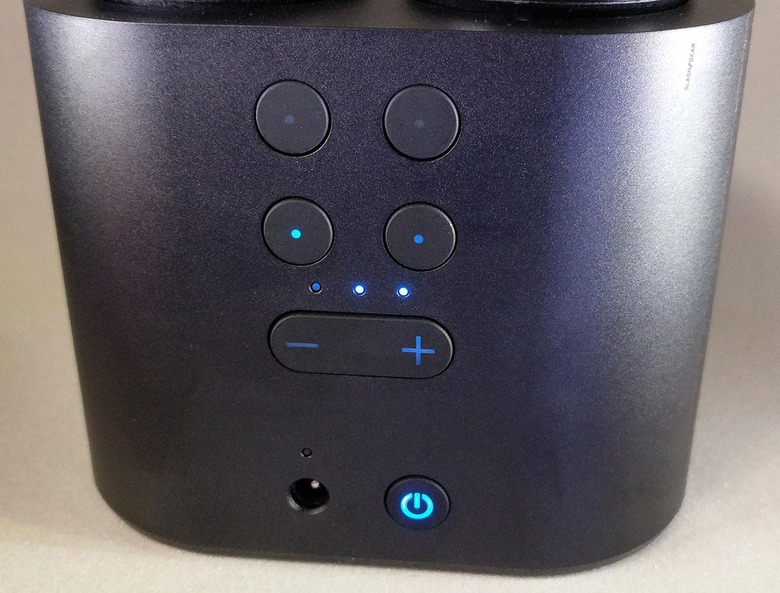 The scents themselves come from Agan Aroma, parent company of Moodo. This is a fully owned subsidiary of ADAMA Agricultural Solutions, too. Just so you're aware of who you're working with.
The Moodo Smart Home Fragrance Diffuser is available for around $190 via Amazon right this minute. This is for the diffuser itself plus three Scent Families: Beach Party, Cozzzy, and Fresh Vibribrations. You can also attain additional packs (one pack has 4 scent pods) for around $30 USD.
SlashGear uses Amazon affiliate links, and if you buy something we may get a small share of the sale.