I'll confess, my attention wasn't entirely on Ford's top-secret 2015 F-150 prototype when I saw the clandestine trucks in action at the Cortez gold mine. After all, it's hard to concentrate when multistory monster-trucks are roaming a near-Martian landscape. Roughly $4.5m apiece, they're the sort of heavy machinery most of us never come into contact with, so join me on a photo-tour of these big-wheeled behemoths.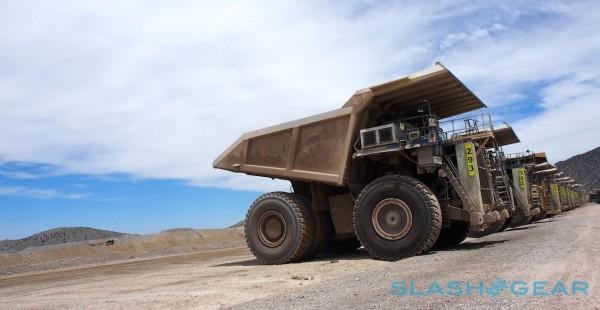 Cortez has a mixed fleet of trucks, though most are Liebherr T282B. Rear-wheel drive, they're 48 feet long and 24 feet high.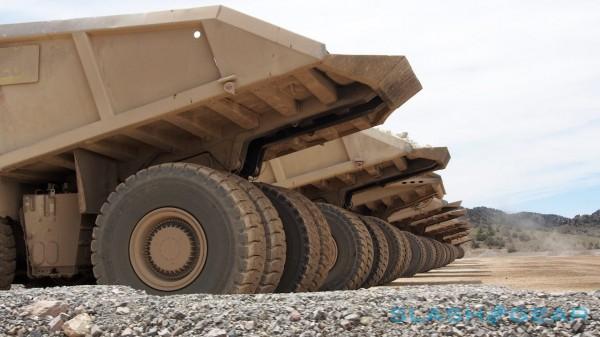 Liebherr may be a German company, but the T282B is actually constructed in Virginia. However, since it's too big for public roads, Liebherr instead ships it to the mine in pieces, and it's assembled on-site.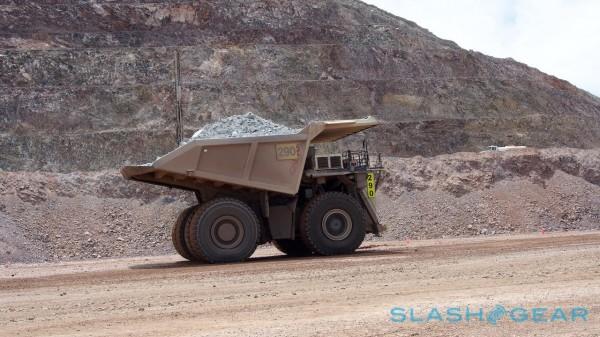 Each of the T282B's can carry up to 400 tons, though Cortez generally loads them to 350 tons, since they're still covered by the Liebherr warranty. It takes just three scoops from the excavators to fill the dumper's bucket.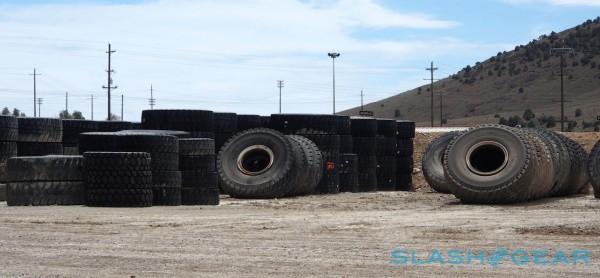 Tires for the trucks don't come cheap. Cortez keeps a stockpile of spares – along with a specially-adapted Caterpillar loader to move them – costing around $50,000 apiece.
You get a lot of rubber for your money, however. The T282B uses six 59/80 R63 tires, more than 13 feet in diameter.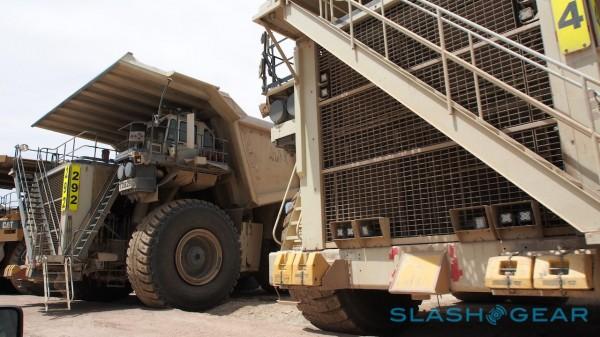 Big trucks need big engines, and the T282B doesn't show up lacking in power. Liebherr offers a choice of two engines, either a 78-liter V18 or a 90-liter V20, for in excess of 3,500 HP.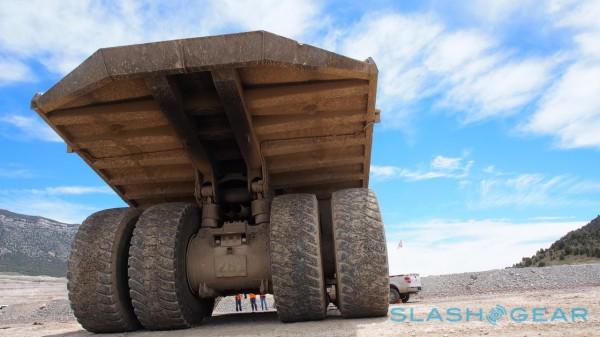 The diesel engines themselves don't directly power the wheels, however. Instead, they work as a generator for the T282B's electric drive system, which can propel the truck at up to 40 mph.
Cortez runs 24 hours a day, seven days a week, with four shifts each working for 12 hours. The mine only shuts down on Christmas Day and Thanksgiving.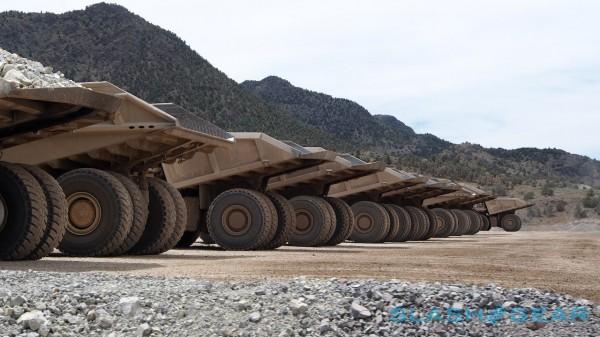 Maintenance on each truck takes place once a month, with Cortez's on-site garage capable of doing a full overhaul of the vehicles if they require it.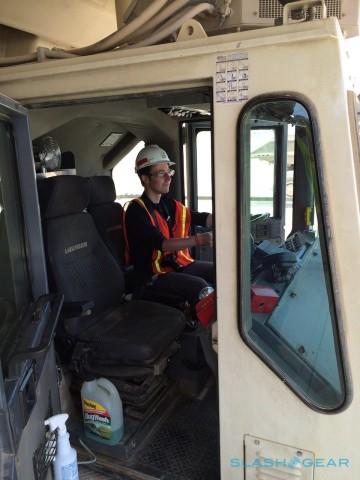 Contrary to appearances, the Cortez miners didn't quite trust me to drive the trucks myself. However, with no gears to navigate, and ample power-assistance to the controls, they're said to be as easy to operate as an electric golf-cart.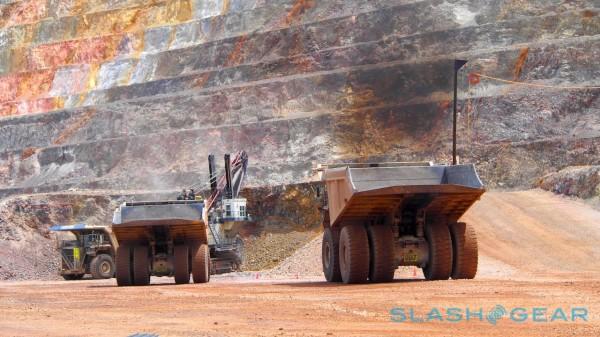 Each truck has cruise control, along with differential wheel torque control, which can automatically boost the power sent to the right or left wheels when the driver is making low-speed turns.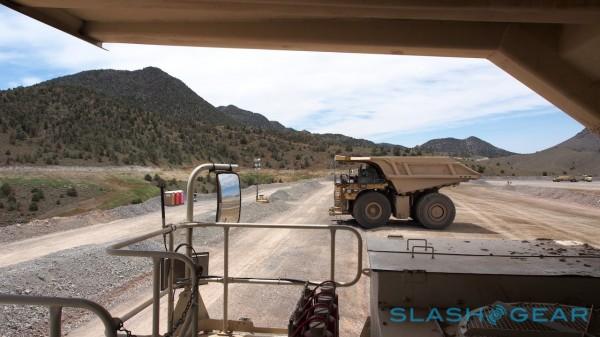 The trucks don't so much have a blind-spot as a moat of blocked visibility around them, and with easily enough power to crush a car there are strict rules on-site about how much space other vehicles should leave between them.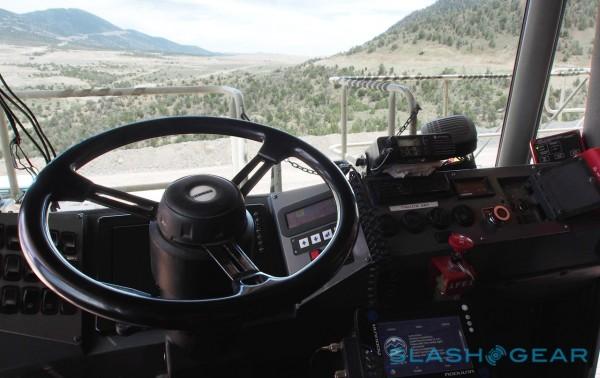 To help the driver, there are cameras on all of the corners of the trucks, feeding to LCD displays in the cab. All vehicles on-site drive on the left, too, since it's then easier to position the truck on the road.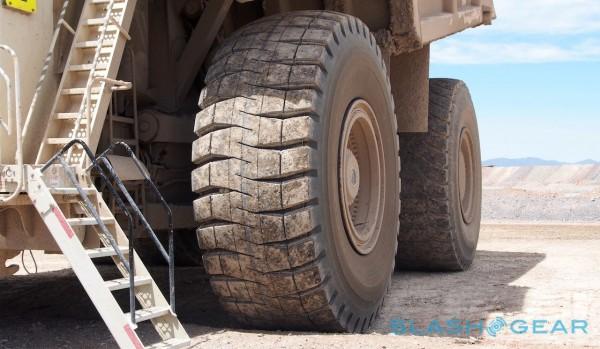 Rather than the system you'd find on most modern cars, the T282B uses electric retarding on the front wheels, while dry disc service brakes are automatically applied front and back. The driver assistance aids can also use them to help stop the truck from rolling backwards when at low-speed on an incline.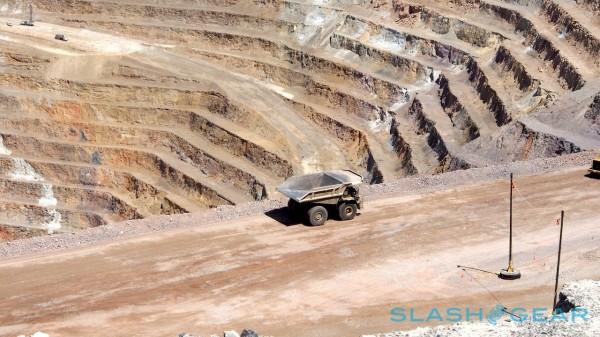 While the trucks handle on-site transportation, they don't actually move the intermingled rock and gold to the processing facility. That's the responsibility of a nine mile long conveyor – made of a solid length of rubber, a full eighteen miles long – which snakes across the scrubland between the two locations.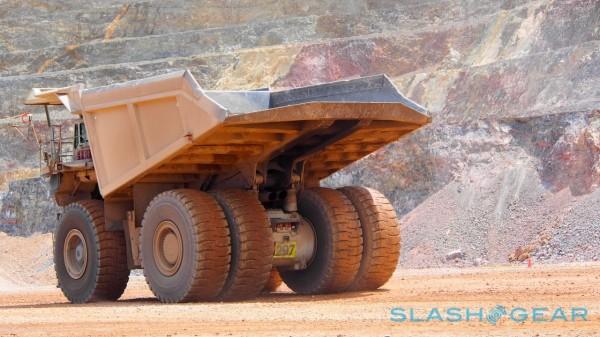 Cortez has only had one major accident with a dump truck, when a driver passed out due to a medical condition and the vehicle slowly overturned. Aside from some minor damage to the bodywork and railings at the front, it was undamaged, and the driver also recovered.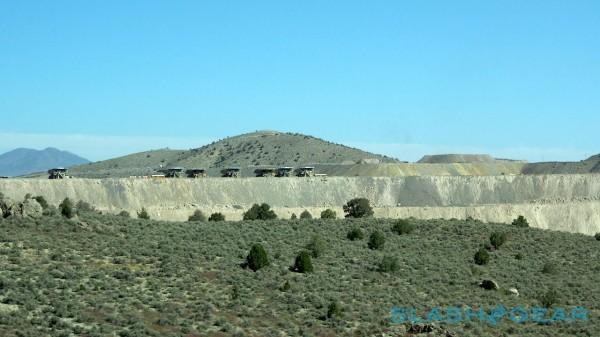 Cortez may have invested significantly into its fleet – it currently has around 55 trucks – but it pays dividends. In 2013, the mine produced 1.34 million ounces of gold, which at today's prices would be worth around $1.68bn.
Thanks to Ford and Barrick for hosting me at the Cortez mine