Mondaine reveals second hybrid smartwatch with call, message notifications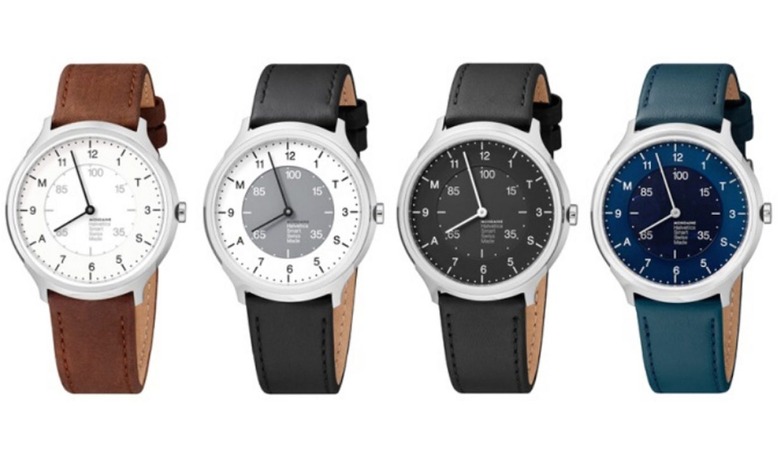 Smartwatch fans might not recognize the name Mondaine, but back in 2015 the Swiss watch maker released a minimalist wearable called the Helvetica 1. The hybrid timepiece paired analog dials with a few smartwatch features that mostly included activity and sleep tracking. While its simple, clean design was attractive, the Helvetica 1 quickly lost ground to more advanced smartwatches. Now Mondaine is back with the Helvetica Regular, which aims to catch up to 2018 with a few more critical features, while maintaining its simplicity.
Revealed at the Baselworld 2018 event this week, the Helvetica Regular's biggest new addition is support for notifications. This not only includes phone calls and text messages, but alerts from Facebook, Instagram, and WhatsApp as well.
Mondaine has kept the analog dials, and that means the watch has an interesting way of telling users they've received a notification: the hour hand will point to the "T," found at the "2" position on the dial, when there's been a phone call, while the minute hand rotates to the "M," found at "10," when there's been messages. There's no way to actually see the message, of course, but that's not what the Helvetica Regular is trying to do.
Also on the dial is "A" replacing "8" and "S" in place of "4"; these indicators are used for activity and sleep, respectively. Wearers can press the crown button once to check activity, which has the hour hand point to "A" and the minute hand used to indicate goal progress. Users must press the crown for three seconds to enter sleep tracking mode. The hour hand then rotates to "S" and uses the inner dial to show sleep progress.
As far as the basics go, the Helvetica Regular touts a 2-year battery life, and it's both slimmer and lighter than its predecessor, with a 40mm case as compared to the Helvetica 1's 44mm. Mondaine says the timepiece will be priced at $660, and should be available before the end of the month.
SOURCE Wareable