Mokibo Bluetooth keyboard is also a large multi-touch touchpad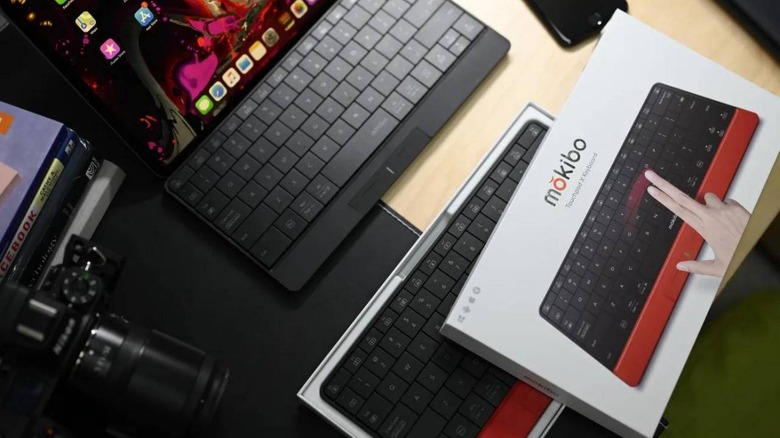 While there's a wide variety of keyboards and mice available for desktops users, users on the go have fewer choices if they want to keep the number of peripherals they bring low. There are Bluetooth keyboards that do come with a touchpad but those can hardly be called portable. Enter the Mokibo, a rather ingenious new keyboard that combines both keyboard and mouse in one thing and light package. Not by shrinking the touchpad to almost unusable levels but by enlarging it to the same size as the keyboard itself.
The Mokibo bills itself as a 2-in-1 keyboard not because it converts or splits between keyboard and mouse. Instead, it "hides" the mouse underneath the keyboard. More technically, the 80 sensors on each key serve as the touchpad, transforming the entire keyboard surface as the touchpad.
It's not just for moving the mouse though. You can do almost everything you can with a touchpad on the Mokibo. That includes a two-finger gesture to scroll through pages and even pinch to zoom for enlarging or shrinking views. For those you prefer a more traditional click, there's still a click bar at the bottom.
The Mokibo's pantography keyboard promises a comfortable typing experience while the 7.5 mm thickness and 245 g weight makes it an ideal companion for any mobile device. At the same, being able to pair with up to three devices makes it usable for any situation, even for desktops.
The question is whether the keyboard's surface will actually allow for smooth gliding like you would have on a regular touchpad. The idea definitely seems popular, though the Mokibo 2-in-1 Keyboard still has to reach its Indiegogo funding goal as of this writing.