Moen MotionSense Touch-Free Faucet hands-on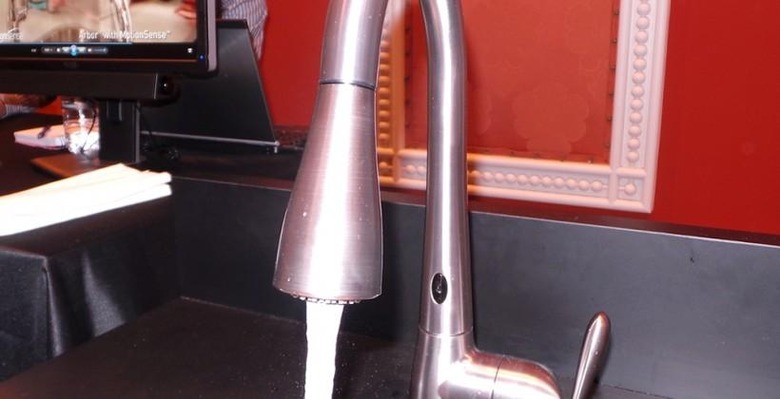 This week we got the opportunity to take a peek at the newest Moen water distribution system for your sink, the MotionSense Touch-Free faucet. Moen's own Maribeth Kwasniewski showed this system off with us at ShowStoppers during CES 2013, revealing the multiple ways you're able to activate it when you get it for yourself in the very near future. The first of these is the Wave Sensor – that black dot at the top of the neck of the faucet, able to toggle the water's flow when you move your hand over or across it.
What this wave sensor being able to "toggle" means here is that if you wave your hand over the faucet once, the water turns on, if you wave your hand over it again, the water turns off. Whichever state the water flow is in when you wave your hand over it, it'll be the opposite when you've waved. If you wave once to turn the water off and walk away, the water will automatically shut off in 2 minutes.
Next is the Ready Sensor, this feature turning the water flow on when you place your hands under the faucet. This works like the sensor you'll see it massive amounts of bathrooms in restaurants, hotels, and everywhere in between right this minute. The third way to work with this faucet is with its one handle – pull the handle out and it turns on, pull back or push forward and the water becomes hot or cold.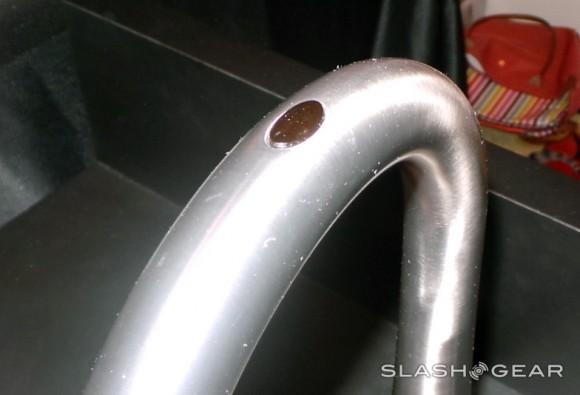 As for the temperature of the water when you use one of the sensors: that's controlled by a control box that you set (under the deck, aka under your countertop) when you first install the faucet. You can set and re-set this controlled temperature but can also control the temperature above the deck with the handle as described above. This system sticks to the controlled temperature you've set whenever you initiate the flow of water with one of the two sensors.
This faucet starts at $399 USD and is available right this minute from a variety of retailers and online (if you know where to look). Have a peek at the rest of our CES 2013 coverage in our giant CES hub or check just the ShowStoppers hands-on posts in our ShowStoppers 2013 tag portal – it's all good!