Modular DJI Mavic 2 could save your life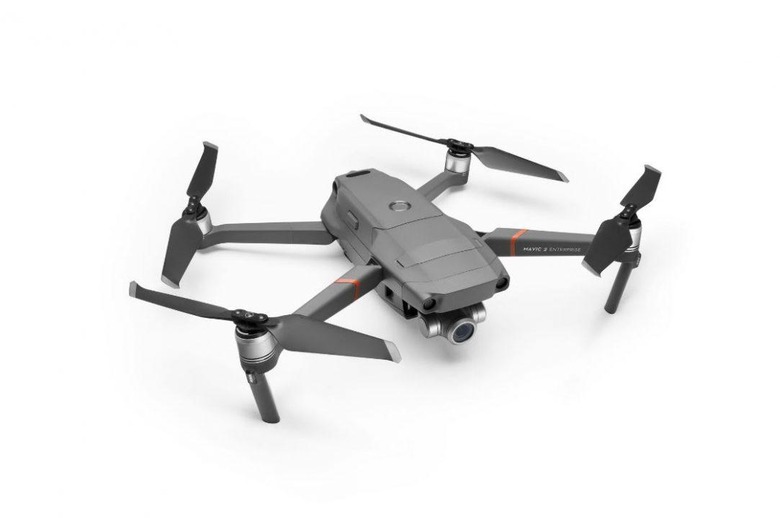 Back in August, DJI introduced its new Mavic 2 line of drones, which at the time consisted of the Mavic 2 Pro and the Mavic 2 Zoom. Both of the drones are marketed toward end users of all varieties, but today, DJI is expanding the Mavic 2 line with a drone that's made specifically with commercial applications in mind. That drone is the Mavic 2 Enterprise, and aside from the somewhat uninspired name, it sounds like a pretty capable machine.
On the surface, the Mavic 2 Enterprise doesn't look a whole lot different from the Mavic 2 Pro. In fact, aside from different color bands on the propeller arms and a different camera attached to the underside, the Mavic 2 Enterprise and Pro look almost exactly the same.
That camera on the Mavic 2 Enterprise is a 12MP one that's capable of 2x optical zoom and 3x digital zoom and is stabilized by a three-axis gimbal. It may not have as impressive a spec sheet as the one of the Mavic 2 Pro, but DJI is counting on its zoom and stabilization capabilities to make it more appealing to business customers and emergency services.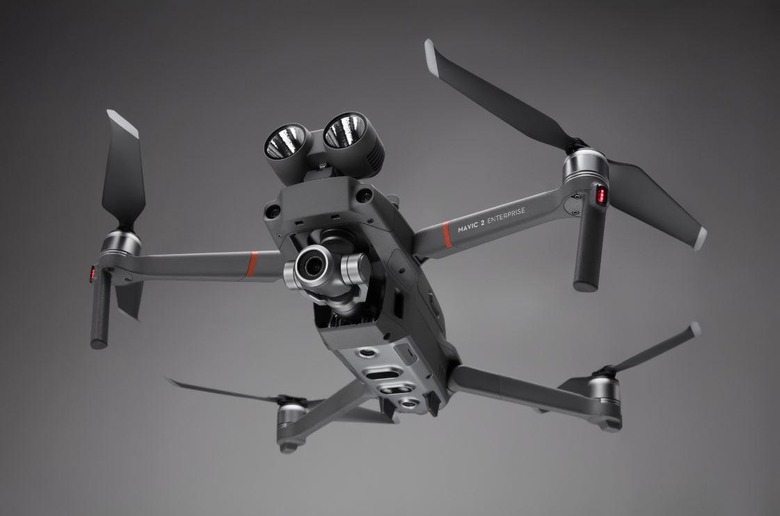 Where the Mavic 2 Enterprise becomes a particularly compelling drone is in its modular design. At the moment, DJI has three accessories that can be attached to the drone's body and controlled through the accompanying app. First is the M2E Spotlight, which provides 2,400 lumens to assist with low-light tasks like search and rescue. The M2E Speaker is the second on the list, and it allows operators to play 10 custom recordings at up to 100 decibels. Finally, we've got the M2E Beacon, which produces a strobe light that's visible up to three miles away.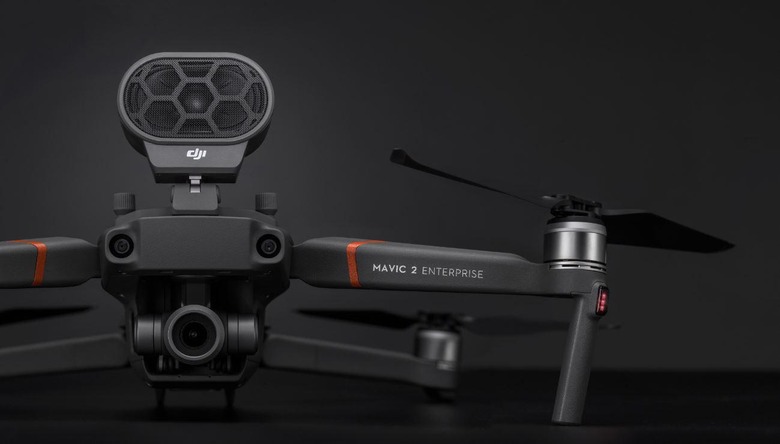 Aside from the accessories, another major selling point of the Mavic 2 Enterprise will be its data security features. The drone itself comes with 24GB of onboard storage that can be password protected. The Mavic 2 Enterprise also has a toggleable local data mode that prevents connected devices from sending or receiving data over the internet, which could come in very handy for sensitive jobs.
Like the Mavic 2 Pro, the Mavic 2 Enterprise has a top speed of 72kph and a max flight time of 31 minutes. The drone is available today through DJI's Enterpise retailers in a bundle that contains the drone, one battery, a remote controller, and all three of the accessories detailed above for $1,999 – $500 more than the Mavic 2 Pro, a difference we can likely chalk up to the included accessories and beefed up security features.