Modobag wants to bring rideable luggage to airports across the US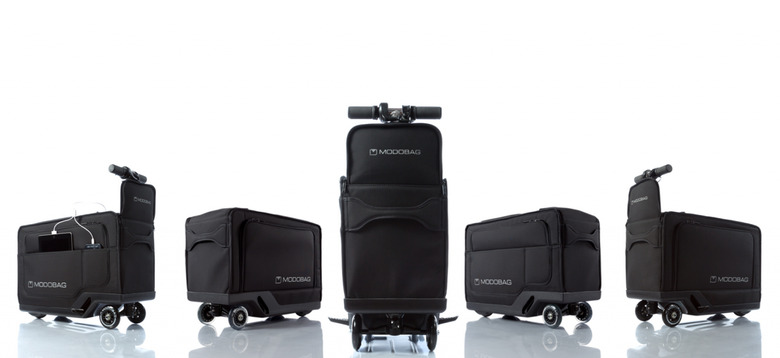 A campaign to fund the Modobag has gone live on Indiegogo, and it promises to be one of the strangest, most unique items you'll come across today. Modobag is a battery-powered, motorized piece of luggage that travelers can use to zip around airport terminals as they rush to catch their flight. The company behind Modobag says it will get you where you need to be three times faster than walking, meaning the frequently late among us may want to pay attention.
If you can get past the idea of zooming around the terminal on a motorized piece of luggage, the Modobag might actually prove to be a handy item. For starters, the bag is TSA and FAA compliant, and it's small enough to be used as a carry-on bag. So, owners of the Modobag shouldn't have any problems using this in an airport, at least in theory. Assuming a rider who weighs 180 lbs, the suitcase has a range of six miles and can be charged to 80% battery in about 15 minutes. It can also reach a top speed of 8 miles per hour, and while that's not quite three times as fast as we've seen people power walk through an airport, it is fast enough to get across a terminal at a decent clip.
The suitcase itself is equipped with a pair of illuminated USB ports, allowing users to charge their mobile devices while waiting to board their plane. It also offers up compatibility with a Modobag companion app, which allows for GPRS-GSM tracking and proximity alerts when you move too far away from your bag. With all of this hardware, you'd think that wouldn't leave much space to actually store your stuff, but Modobag says that it still offers 85% of the capacity of a normal carry-on.
While it is an idea that seems to come out of left field, it would appear that some folks are smitten with the idea of rideable luggage. Shortly after launch, Modobag's Indiegogo campaign has already raised more than half of its target amount of $50,000, with 20 backers pledging a total of $28,354 in a little under 24 hours. That's definitely a good sign for Modobag, but we'll have to see if it has the momentum to finish its crowdfunding campaign successfully.
SOURCE: Modobag Indiegogo