Modern Warfare 3 September DLC images leaked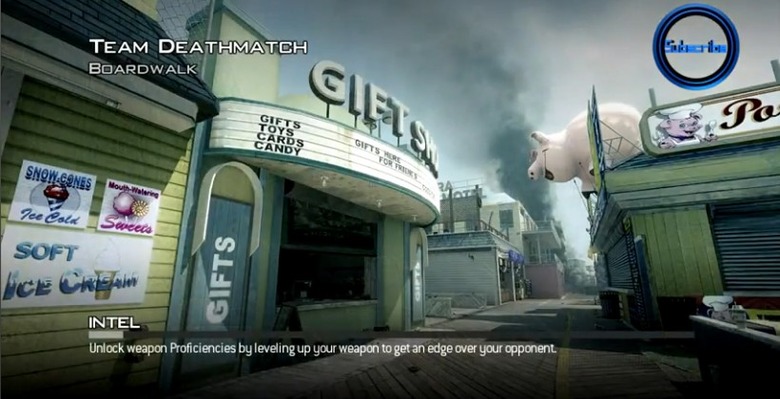 We've got a slew of Modern Warfare 3 rumors to tell you about today, so sit down and strap in. We may have received our first glimpse at Activision's September DLC offerings for the immensely popular military shooter, which will apparently add three new maps to the game: Boardwalk, Gulch, and Parish. The images were initially leaked by Youtube user Gamecheat13 along with a gameplay video that gives us a preview of the Parish map. The video has since been removed, but not before MP1st could snatch up the images and post them for all the Internet to see.
Of the three maps, Parish is the one we know the most about. The map appears to be centered around a run-down cathedral, complete with a bar and a pool area for players to shoot up. Looking at the screenshots, we see that Sunday services are held by one "Father T McCool," and we also get few looks at an outside area filled with old military vehicles and missiles.
Boardwalk and Gulch remain a little more mysterious at the moment, but there's plenty we can guess at thanks to the screenshots. Obviously, Boardwalk will be similar to the boardwalks we're all familiar with, and we can see a bar and a gift shop pictured in the leaked images. Gulch's screenshots don't give too much away (other than the fact that it looks to be set in the desert), but one screenshot comes with a descriptive caption that reads "Abandoned Utah mining settlement. Features an open layout and strong flanks." The name leads us to believe that this may be an homage to the legendary Halo: Combat Evolved map Blood Gulch, but other than our own wishful thinking, there isn't much to back that belief up.
The original videos uploaded to YouTube and Vimeo by Gamecheat13 focused solely on the Parish map, but before being wiped from the Internet, a few seconds of the video were included in GameSpot's latest installment of Start-Select, which you can see above. In addition to all of this, MP1st speculates that Modern Warfare 3 players will be getting a new game mode when the August content update drops, and points to a tweet made over the weekend by the Call of Duty Elite account as evidence for this claim. This is all some pretty intriguing stuff, but you should probably take all of this with a grain of salt until we get something in the way of official confirmation from Activision or Infinity Ward. Have a look at all of the leaked images in our gallery below, and keep it tuned to SlashGear for more information!