Modbook Pro OS X Mountain Lion tablet launches with SSD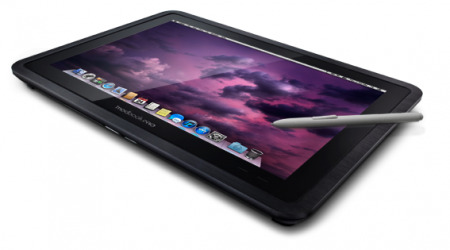 It's time to get your MacBook Pro action on with a modified tablet design from Modbook Pro, announced today once again in a 13.3-inch iteration for release on October 3rd. The folks at Modbook have a strange situation on their hands, one where they're somehow or another able to side-step the lock-out that exists around Apple's OS X and create tablet computers that are, essentially, MacBook Pro units without the keyboard and a touchscreen up front. Today's announcement also adds an SSD to the mix for you hardcore solid-state lovers.
This device will be appearing as a 13.3-inch Mac-based pen tablet computer. You've got a 64GB solid-state drive inside, upgrade possible to 480GB internal SSD storage, and a ship-date for online purchases of the device for as early as mid-November. This device combines the original hardware of an Apple MacBook Pro with OS X Mountain Lion with a digitizer from Wacom for 512 levels of pen pressure sensitivity. Also in the mix is a ForceGlass pen interface and the ability to work with Microsoft Windows 7 as well.

If you purchase the base configuration of this machine, you'll be getting Modbook Inc's own original 64GB Nishara-class SATA 3 SSD with NAND technology – and you've got the option to work with a bigger more powerful beast as well, of course, with up to 480GB of storage. With NAND technology you'll have the best speed and performance available with flash-based storage, and you'll have no moving parts – better for the long run.
Sales of this Modbook Pro will begin on Wednesday and will have customers living in the United States – or at least whose mailing addresses are in the USA – getting shipment in starting in November. The Modbook team lets everyone know the following about each Modbook purchase, and makes it clear that this is not an original product in and of itself, but a modification of a product originally manufactured by Apple.
The Modbook Pro is an enclosure conversion kit designed to exclusively contain an original MacBook Pro base system manufactured by Apple Inc. Apple Inc.'s one-year warranty on the base system is voided by the conversion and replaced with the Modbook Pro Protection Plan, which covers the entire hardware solution, including the base system.
Let us know if you're into the idea of the Modbook Pro, or if you think people should just stick with the iPad and leave the real power to the notebook universe!