Modbook Pro makes MacBook a serious tablet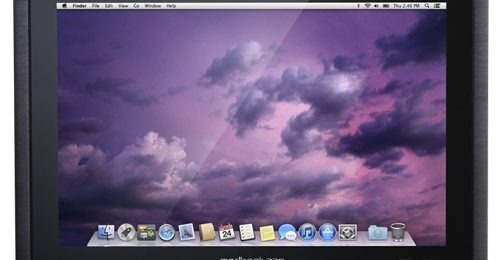 Back before Apple announced the original iPad, the Modbook team set out to take existing MacBook Pros and turn them into standalone tablets. The idea was to take the internals and add a touchscreen into the mix, giving you a powerful yet relatively portable tablet running full blown OS X. Now the company is back, and has today announced the Modbook Pro, taking the current-generation 13-inch MacBook Pro and runs with the tablet conversion.
All the specs are what you would find on the current 13-inch MacBook Pro: Intel's Ivy Bridge Core i5 processor clocked at 2.5Ghz, integrated HD 4000 GPU, up to 16GB of RAM, up to 1TB of hard drive space (plus a 960GB SSD option), SuperDrive, and WiFi b/g/n plus Bluetooth. The team has added is a Wacom digitizer to the 1280x800 display, with 512 levels of pressure sensitivity for the included stylus, with the screen also capable of registering 133 points per second.
Lots of attention has been paid to the housing of the Modbook Pro too. The tablet comes with a sloped edge design, and special grippy feet ensures the Modbook can be propped at a 50 degree angle without slipping. The usual array of ports are still onboard too, including Thunderbolt, USB 3.0, SDXC slot, and the MagSafe connector.
How much is all this going to set you back? Good question. The team hasn't announced official pricing for the tablet yet, saying that it's coming in the next few weeks with the tablet set to ship in the Fall. We doubt it will be cheap though, so if this strange hybrid has piqued your curiosity, you better start saving up those pennies.