Mobile C50 flash drive offers USB-A, USB-C, and micro USB connectors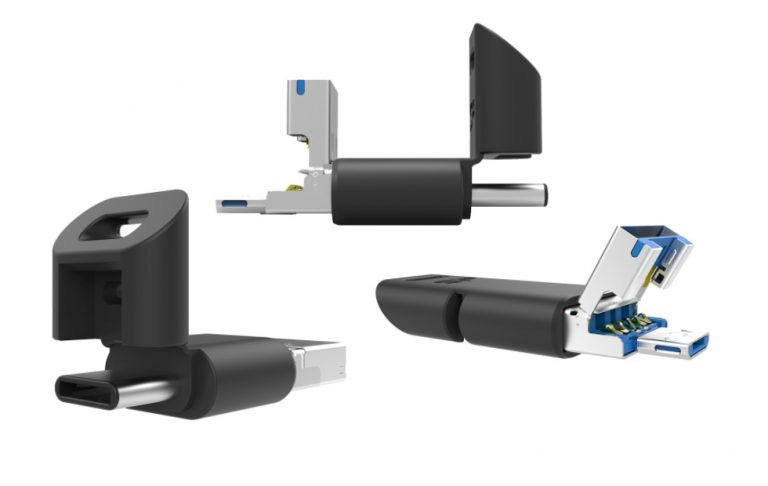 Gadgets with USB-C are on the rise, adding yet another plug type into the mix for consumers to be mindful of. This makes flash drives particularly tricky, as you likely need an adapter or two to use the drive with all of your gadgets. Silicon Power wants to change that with its new Mobile C50 'triple-interface' flash drive, one that sports all three major USB connectors on a single device.
If you haven't updated your computer or laptop in the recent past, there's a good chance it doesn't support USB-C, which means you have to use regular ole USB Type-A dongles. Joining that is the ubiquitous micro USB connector still found on most mobile devices, as well as the growing presence of USB-C, which is itself found on a growing number of phones, tablets and laptops.
With Silicon Power's Mobile C50, users can connect the flash drive to any of these devices using one of the three connectors built into the dongle. The C50's USB-C connector is hidden within a rubber cap that can be opened more than 10,000 times based on durability testing, according to Silicon Power. This connector is attached to the drive, meaning no hassle as with adapters.
On the opposite end of the C50 is a typical USB Type-A connector, which can be popped upward to reveal a smaller micro USB connector. Again, the fact that all three are built into the drive in some way means the user doesn't have to worry about misplacing any components.
The drive itself offers 128GB of storage with a design that enables users to attach it to a keyring or lanyard if desired. The design is such that it helps shield the drive from dust, water, and vibrations, plus there's free software available for desktop and mobile that facilitates file management.
SOURCE: Silicon Power