Mobiado Professional 105GMT Gold is a Mechanical Watch Phone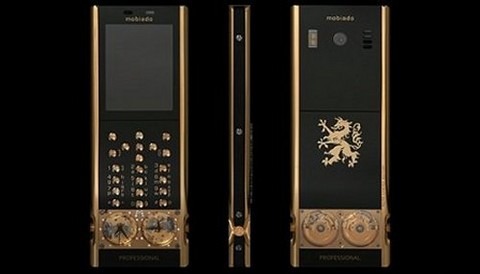 A cell phone to me is a technology based electronic devices that hold no collective value compares to a sentiment item like a mechanical watch. I couldn't see any value in a blinged-out handheld covered in gold or showered in diamonds. The connection fails as soon as the next technology rolls in with a bigger LCD screen, storage space or supports a faster communication protocol. But the Canadian has a unique way of making luxury cell phone worth more than its monetary value.
Keeping within the tradition, Mobiado introduces the professional 105GMT Gold, a luxury and limited edition cell phone incorporates a dual mechanical Swiss watch. Each of the mechanical movement contains 25 jeweled bearings and are attached an in-house 3D shock absorbing system.
The whole unit has a total count of 274 Carats of sapphire crystal. The buttons are hand-painted with 24-Carat gold as well as the symbols and lettering. The frame has an Ebony wood inlay with CNC machined solid brass frame, finished with a 5 micron thick 24-carat coating of gold.
The handheld itself has a few features normally found on a typical cell phone: It has a 2-inch QVGA screen, 1GB of storage space, Bluetooth, mircoUSB port. It also plays song, web browsing, email and take 2MP of digital still image. Connectivity supports quad-band GSM (850/900/1800/1900MHz) and dual-band UMTS (850/2100MHz).
The price on the Mobiado Professional 105GMT Gold has not yet announced, but the Canadian finest craftsmanship would be available in a limited 50-pieces edition.